Elvis Presley Forever! newsletter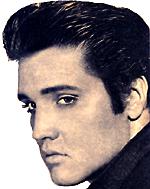 This ezine is dedicated to providing quality Elvis Presley biography information, pictures and articles for your entertainment. The contents of our Elvis Presley biography site is written by a fan for his fans.
Welcome to our new subscribers!
Thank you for subscribing to our "Elvis Presley Forever" newsletter!
The number of subscribers is steadily increasing each day.
Hopefully, that means that you have found this site interesting.
I hope you will stay with this site for a long time. I truly appreciate you being here.
Well,, this month we have for you:
1) Elvis Presley Quotes
2) Music Legends Biography Article:
3) Elvis Fan's Survey Responses
4) Sponsored Resources
5) Editor's Notes & Fun stuff

1) Elvis Presley Quotes:
"Nothing really affected me until I heard Elvis. If there hadn't been an Elvis, there wouldn't have been the Beatles."


John Lennon



"Like every artist to emerge during the rock scene Elvis was my influence and my idol."


Marty Wilde (Rock'n Roll singer)



"I've learned very early in life...without a song, the day would never end. Without a song, a man ain't got a friend. Without a song, the road would never bend, without a song. So I'll keep on singing the song."


Elvis



"Without preamble, the three-piece band cuts loose. In the spotlight, the lanky singer flails furious rhythms on his guitar, every now and then breaking a string. In a pivoting stance, his hips swing sensuously from side to side and his entire body takes on a frantic quiver, as if he had swallowed a jackhammer."


Time Magazine,
May 15, 1956



"His kind of music is deplorable, a rancid smelling aphrodisiac...It fosters almost totally negative and destructive reactions in young people."


Frank Sinatra,
1950's



"It isn't enough to say that Elvis is kind to his parents, sends money home, and is the same unspoiled kid he was before all the commotion began. That still isn't a free ticket to behave like a sex maniac in public."


Eddie Condon
Cosmopolitan, December 1956



"I wanted to say to Elvis Presley and the country that this is a real decent, fine boy."


Ed Sullivan
During Elvis' third appearance on his show, January 6, 1957


2) Music Legends Biography Article:
"Elvis Biography"
Born to a poor family, in Tupelo, Mississippi, Presley was raised both in Tupelo and later in Memphis, Tennessee, where his family moved when he was 13.
He had a twin brother (Jesse Garon Presley), who died at birth. The young Elvis took up guitar at 11 and, after high school, worked at a tool company and then an electric company.
In the summer of 1953 he paid to record the first of two double-sided demo acetates at Sun Studios, singing "My Happiness" and "That's When Your Heartaches Begin", popular ballads of the time.
Sun Records founder Sam Phillips and assistant Marion Keisker heard the discs and, recognizing Presley's nascent talent, called him in June 1954 to fill in for a missing ballad singer.
Although the session did not prove fruitful, Sam then put Elvis together with local musicians Scotty Moore and Bill Black to see what might develop.
During a rehearsal break on July 5, 1954 Elvis started fooling around with a song called "That's All Right" and Sam hit the record button, thinking Elvis may have found his niche.
The resulting single, backed with Elvis' hopped-up version of the country song "Blue Moon Of Kentucky", was a huge local hit in Memphis after WHBQ aired it two days later and regular touring started to expand his fame beyond Tennessee.
Elvis recorded five singles while at Sun, garnering increasing attention both for his music and for the rioting girls that were becoming a staple of his live performances.
The last of the Sun singles, "I Forgot To Remember To Forget" b/w "Mystery Train", went to #1 on the Country Singles chart.
During this period Elvis toured incessantly throughout the south and southwest, also appearing 50 times on the regional show "Lousiana Hayride".
Hayride founder and producer Horace Logan had shrewdly signed Elvis to weekly appearances after noting the audience reaction to the then-unknown singer.
It was during Elvis' last appearance on the Hayride that Logan announced, "Elvis has left the building", desperate to quell the screaming teenagers trying to reach Elvis as he exited the stage.
A string of hit records followed as the public's desire for his product seemed insatiable. On January 28, 1956 he made his national television debut by appearing on The Dorsey Brothers Stage Show.
Now recording for RCA, and under the management of (honorary) Col. Tom Parker, Elvis entered the Billboard Hot 100 chart for the first time on February 22 with "Heartbreak Hotel".
After a string of other TV appearances he made his first appearance on the top-rated Ed Sullivan Show on September 9, earning the show a record 52-60 million viewers (82.6% of viewership that night).
Presley had dyed his sandy blond hair jet black by the time of his second Sullivan performance on October 28 of the same year. On his third and final Sullivan appearance (January 6, 1957) Sullivan bowed to pressure from moralists and ordered Presley to be filmed only from the waist up due to his customary suggestive hip movements.
On January 20, 1958 Presley received a draft notice for a 2-year tour with the US Army. Presley served in Germany where he drove a jeep for Sgt. Ira Jones and was honorably discharged on March 5, 1960.
Many have sinced wondered why an only child, by then the sole support of his parents and grandmother, was drafted during peacetime, his services clearly not critical for the defense of his country.
It has long been suspected that Elvis' draft notice was either politically instigated to shunt his 'dangerous', 'race-mixing' influence, or quietly encouraged by his manager in order to keep the increasingly world-wise southern lad under his thumb.
Presley was deeply religious, and he recorded several gospel albums. His 3 Grammy awards are all for gospel music.
Elvis Beginning with Love Me Tender\ (opened on November 15, 1956), Presley starred in 31 motion pictures, signed to multiple long-term contracts on the advice of his manager.
These were usually musicals based around Presley performances and marked the beginning of his transition from rebellious rock and roller to all-round family entertainer.
The 1960s saw the quality of his recorded output drop, although he was still capable of creating records equal to his best and did so on the infrequent occasions where he was presented with decent material at his movie recording sessions.
With this drop-off, and in the face of the social upheaval of the 1960s and the British Invasion spearheaded by The Beatles, Presley's star faded slightly before a triumphant TV comeback special in 1968 that saw him return to his rock and roll roots.
His 1969 return to live performances, first in Las Vegas and then across the country, was noted for the constant stream of sold-out shows, many setting attendance records in the venues where he performed.
From the beginning of his career, Elvis was a sex symbol sending legions of women swooning. On May 1, 1967 he married Priscilla Anne Beaulieu at the Alladin Hotel in Las Vegas.
A daughter, Lisa Marie, was born exactly nine months after their wedding, on February 1, 1968. After their divorce in 1973 she lived with Priscilla. However, Elvis: The Hollywood Years, a new biography by David Bret, claims the star had a secret gay affair.
The author says that his manager Colonel Tom Parker "held secret information about a homosexual affair between Elvis and actor Nick Adams over his head like a sword. He made it clear that... if Elvis didn't toe the line, he'd let it get out.
At that time, it could well have ruined his career. That is why Parker had so much control over him." Many journalists' attempts to 'out' the star in the past were thwarted by his manager.
After seven years off the top of the charts, Presley's song "Suspicious Minds," hit No. 1 on the Billboard Music charts on November 1, 1969. This was the last time any song by Presley hit no. 1 while he was still alive.
The mid-1970s saw Elvis becoming increasing isolated, battling an addiction to prescription drugs and the resulting toll on his appearance and performances. He died at his palatial home Graceland in Memphis, Tennessee in 1977 and is now buried on its grounds.
Originally buried at Forest Hill Cemetery, his tomb was eventually moved to Graceland after an attempted theft of his body.
Numerous examinations of his death by medical personnel have not resulted in a final public cause of death, causes most often cited are polypharmacy (drug mixing) or heart disease exacerbated by his drug use. Since his death there have been numerous conspiracy theories and Elvis sightings.
Elvis Presley spawned Rock and Roll interest in Europe, his name even known by people behind the then Iron Curtain. In France, Johnny Hallyday copied Presley in the French language becoming a huge star in that country. Presley paved the way for other American rockers whose records sold in Europe and who began to tour there.
Teenagers around the world began copying his "Duck tail" hair style and the demand for transistor radios exploded so much so that Sony went from a small Japanese telecommunications company making radios, to a giant global conglomerate. Too, through his new look with black slacks and loose open-necked shirts he created a huge demand for new lines of clothing.
Presley's influence created a generation of teenagers who, for the first time became an economic powerhouse through their spending capacity.
Now, more than twenty years after his death, Presley remains a foremost icon of the 20th century. His image, especially his trademark quiff (or forelock), is instantly recognizable. He is still the gold standard against which modern notions of fame are measured.
At least one modern recording artist, Elvis Costello, borrowed Presley's first name to help his fledgling career.
But all too often, Elvis Presley's kitsch appeal, the industry which has grown up around chronicling his dietary and chemical predilections and the trappings of his celebrity, have tended to obscure the vibrant and vital music he made as a young man, the vocally-influential recordings of his later career, and the lasting influence both he and his music had on American popular culture.
Nonetheless, in October 2002, nearly 50 years after he made his first hit record and 25 years after his death, an Elvis Presley album titled "ELV1S 30 #1 Hits," reached number 1 on the charts.
Amongst his many accomplishments, Elvis Presley is only one of two singers to ever simultaneously have two Top 5 albums on the charts. He has been inducted into the Rock and Roll Music Hall of Fame, the Country Music Hall of Fame, and the Gospel Music Hall of Fame.
3) This month's top Fan Survey Responses:
June 2005
First name Mark
Country: Australia
1. How and when did you first hear about Elvis Presley?:
From mum and dad at about age 4

2. What was it that got you hooked on Elvis?:
The sound

3. If Elvis were alive, what would you like to say to him or ask him?:
Why did you let your health go?

4. WHICH is your favourite Elvis Presley song or movie?:
King Kreole movie... If I can dream

5. WHY is it your favourite? :
Lyrics

6. Who do you think Elvis loved most in his life, his greatest love?:
Lisa Marie

7. Where were you and what were you doing when you heard that Elvis had died?:
Watching the Early Bird Show on TV aged 10. Was so upset I took the day off School.

8. Why do you think Elvis still attracts new fans every year, even long after his death?:
Vast range of music

9. Do you collect Elvis music or memorabilia?
Yes, Music, Movies, Posters, Books, Ceramics, Figurines, other

10. Every month we select one Survey participant to receive a free copy of our Elvis-Presley-forever.com book version of our site. Would you like to be considered for selection to get a free copy?: Yes

11. How would you rate our Elvis Presley Biography site?
Excellent

12. Do you have any suggestions on how we can improve this site for Elvis's fans?:
Video clips



G' Day Marc,
Thank you for taking part in our Elvis Presley Survey, it would be great if we knew why he let his health suffer and end such a wonderful man and entertainer's life, but he has left his fans with some great memories to treasure.
4) Sponsor's Resources:
Our Sponsors and Affiliates are what keep this newsletter and our website articles and resources free to you, so we appreciate your support when purchasing from our sponsors.


FREE BOOK OF THE MONTH TO DOWNLOAD:
Have you collected your free copy of our Elvis Presley Biography yet? Fast to download from our home page....
elvis-presley-forever.com


This month we also have a fr.ee ebook for you with family friendly humour! Collect your free copy of our fr.ee Motivational Famous Quotes Book, straight off our sister site home page link on www.personal-enterprise-self-help-resources.com

5) Editor's Notes & Humor:
It got me — on several of the items, including #19. (And for goodness sake, DON'T PEEK! Save the laugh for later!)


You Know You're Living in 2004 When:



1. You accidentally enter your password on the microwave.
2. You haven't played solitaire with real cards in years.
3. You have a list of 15 phone numbers to reach your family of 3.
4. You e-mail the person who works at the desk next to you.
5. Your reason for not staying in touch with friends and family is that they don't have e-mail addresses.
6. You go home after a long day at the office and still answer the phone with your name and title.
7. You make phone calls from home, you accidentally dial "9" to get an outside line.
8. You've sat at the same desk for four years and worked for three different companies.
10. You learn about your redundancy on the 11 o'clock news.
11. Your boss doesn't have a clue how to do your job.
12. You pull up in your own driveway and use your cell phone to see if anyone is home.
13. Every commercial on television has a website at the bottom of the screen.
14. Leaving the house without your cell phone, which you didn't have for the first 20 or 30 (or 60) years of your life, is now a cause for panic and you turn around to go get it.
15. You get up in the morning and go online before getting your coffee.
16. You start tilting your head sideways to smile. :)
17. You're reading this and nodding and laughing.
18. Even worse, you know exactly who you are going to forward this message to.
19. You are too busy to notice there was no #9 on this list.
20. You actually scrolled back up to see if there was a #9 on this list.



AND now you are hopefully laughing at yourself... :-)







Have you visited our site to read the other new articles yet?
elvis-presley-forever.com

I hope you have enjoyed this month's edition of the magazine. If you have any suggestions for content that you would like to see more of, please email us on our "Contact Us" form

Wishing you all the very best for the month ahead, and thank you again for contributing your stories on our Elvis Presley biography Survey of his fans!

Theresea (TLC)

Back to Top of page

Terms of Use | Privacy Policy | Site Map | Elvis Presley Forever Links Directory | Contact Us | Subscribe to "Elvis Presley Forever!" newsletter | Download Site as a Book | Home page | Elvis Presley biography Blog | About Us

=================================================
SITE DISCLAIMER: The Elvis Presley biography information and resources on this site are provided for your entertainment only. No content on this site is intended to be a substitute for therapy or professional advice. While all attempts have been made to verify information provided in this Elvis Presley biography publication, neither the author nor the publisher assumes any responsibility for errors, omissions or contrary interpretation of the Elvis Presley biography or Elvis Presley picture subject matter herein. There is no guarantee of validity of accuracy of any Elvis Presley biography content. Any perceived slight of specific people or organizations is unintentional. This Elvis Presley biography website and its creators are not responsible for the content of any sites linked to.

The Elvis Presley biography contents are solely the opinion of the author and should not be considered as a historical fact or authority on the facts. The author and the Publisher of Elvis Presley biography assume no responsibility or liability and specifically disclaim any warranty, express or implied for any products or services mentioned, or any techniques or practices described. The purchaser or reader of this Elvis Presley biography publication assumes responsibility for the use of these Elvis Presley biography materials and articles and information. Neither the author nor the Elvis Presley biography Publisher assumes any responsibility or liability whatsoever on the behalf of any purchaser or reader of these materials.

Description of site contents: This site contains Elvis Presley biography information, history on Elvis Presley life story, Elvis Presley pictures and photos, Elvis Presley song lyrics, Elvis Presley movie resources, free e-books and articles listed for your convenient search in subjects of: Elvis Presley pictures and photos, Elvis Presley song lyrics, Elvis Presley movie resources, Elvis Presley childhood, Elvis Presley Band members biography, Elvis Presley girlfriends, Elvis Presley spiritual medium stories, Elvis Presley Memphis mafia stories, Elvis Presley diary quotes, Elvis Presley movie and music details in relation to the Elvis Presley autobiography and interviews of friends and family members for the Elvis Presley biography website written by a fan for his fans.
=================================================


Back to Top of page Elvis Presley biography Newsletter