Elvis in my life
by Chris Clarke
(United Kingdom)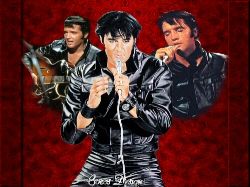 I first came across Elvis with It's Now or Never. I bought it really for the song and not Elvis. One day a friend of mine asked me to go to the cinema to see a film called G.I.Blues, I protested because I really wanted to go and see The Millionairess with Peter Sellers and Sophia Loren.

Wow! How so very glad I gave in and went to see G.I. Blues. From that very day to this I have been an Elvis fan.

Over the years I have bought books that to me at the time cost a fortune and only having my "pocket money" being only 12 years old. I spent all my money on records, books, magazines but loved it all. Over the years I kept on buying.

On Christmas Eve 1963 I had the best Christmas present, a beautiful Christmas card from Graceland, I ran upstairs so overjoyed that I had actually received a card from the home of Elvis, I then at Easter received an Easter card.

I still have them but because of the fact that I used to carry the card everywhere I went the envelope is a bit in tatters.

Over the years I have made lots of friends due to Elvis, I have spent many happy hour listening to his beautiful songs and talking about him.

My only regret is that I never saw him in concert. In June 2009 myself and a friend went to Memphis and stayed at the Heartbreak Hotel, I cannot describe the emotions and the feelings we got being there.

We visited the meditation garden every morning and were very happy to sit opposite Graceland watching the shuttle buses taking the fans up to the mansion. We visited Tupelo and came to realize just why Elvis was so giving even to strangers. I knew he was poor as a child but did not realize just how "Poor".

When people ask how was the trip I do tell them but have to add indescribable. It is a well known fact that Elvis was a beautiful , kind, generous man who loved his fans and gave his all for them.

When anyone says "Elvis" with that tone in their voice I just tell them "your loss, you don`t know what you have missed". That is the only thing I can say, Elvis will always be the greatest entertainer the world has ever seen past, present and future.

All I can say is Thank you Elvis for giving us your beautiful music and yourself to us. May God Bless you. He wanted the brightest star in the sky and chose you.