Chapter 5. Elvis Presley girlfriends and lovers, in Elvis Presley biography website
This page is dedicated to providing the site visitor with quality Elvis Presley biography girlfriends & lovers information, pictures and articles for your entertainment. The contents of this Elvis Presley biography girlfriends & lovers site is written by a fan for his fans.
From the beginning of his career, Elvis was a sex symbol who sent legions of women swooning.
He had a string of girlfriends, before and after he became famous, including celebrities such as Mamie Van Doren, Natalie Wood, Tuesday Weld, Cybill Shepherd, Barbra Streisand, Connie Stevens, Nancy Sinatra and Ann-Margret,
While it's generally thought that they had a hot and heavy romance during the filming, which gives ``Viva Las Vegas'' its oomph, Ann-Margret is coy about whether they ever were intimate.
``What we had was very strong and real intense. I knew him very, very well. We were so much alike,'' she told The Chronicle three years ago when her autobiography, ``Ann-Margret: My Story,'' came out with a chapter devoted to Elvis.
`If I slept with every woman the weekly magazines say I have, I would have been dead a long time ago.`
Elvis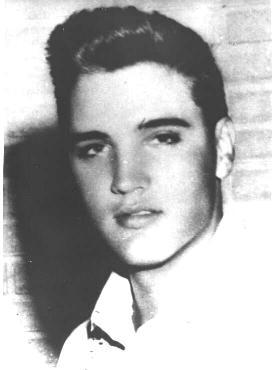 1954, Elvis`s high-school sweet heart was Dixie Locke; the courtship was ended with Elvis, after he took to the road to do his shows with D. J. Scotty and Bill.
1955, Elvis`s first sweet heart June Juanico, was the only girl Gladys Presley ever approved of. Elvis noticed June when she was coming out of the ladies room at half time at of one of his shows.
Elvis asked June if she would meet him after the show, and show him around the town of Biloxi, June felt there wasn`t much to see, but Elvis didn`t care he just wanted June to show him around town.
Elvis picked June up at the front of the theatre then they drove to his motel to change his clothes, then left and took in some nightlife with some floorshows in town.
They spent hours together parked, to see the sun rise, as dawn broke, Elvis spoke of his love and feelings for his family, he mentioned his twin brother Jesse Garon.
Elvis and June would stay in touch with one another by phone, and did this for five months, while Elvis was on tour. The couple shared a passionate relationship for three years.
Anita Wood, dated Elvis seriously for several years, Anita was nineteen years old when she met Elvis they shared wonderful times and had great fun together, Anita felt part of the family around the guys.
On March 24, 1958, Elvis was sworn into the United States Army, and after his eight-week basic training at Fort Hood in Texas, he had two weeks at home enjoying recording new songs, relaxing at the fairgrounds and at the roller rink in the company of Anita wood, who at the time was his best girl.
Anita lived for a time at Graceland, she got quite close to Gladys they even spoke of the time Elvis would marry her, Anita thought the world of Gladys Presley.
Over time Elvis would buy Anita many gifts, one was a diamond friendship ring and remains in her family today.
Another gift was a 1957 Ford, which Anita gave to her brother other gifts Elvis had given to her were also given away, Anita felt it was the right thing to do when she got married.
Its believed the reason Elvis and Anita never married was because Colonel Tom Parker had said if he got engaged or married, with the career Elvis was aiming for, he didn`t need that sort of publicity.
One day while Elvis was at the studio shooting a movie, in 1962, Anita stayed at Graceland in Elvis`s room, and found a letter from Priscilla.
Anita asked Elvis about the letter, he got quite upset and it turned into a fight. Anita was very upset about the whole situation, and feeling very hurt she decided to leave Elvis`s life.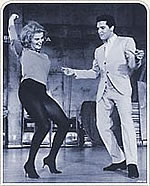 Elvis met Ann-Margret, when filming Viva Las Vegas she was his favorite co-star, Elvis cared deeply for her and truly believed they loved each other, but, for some reason they just stopped seeing each other.
Elvis and Ann-Margret, remained good friends for many years, Ann-Margret was the only co-star to attended Elvis`s funeral.
When the training at Fort Hood was finished, Elvis was sent to Germany and became a scout for the Army.
This was the time Elvis met Priscilla Beaulieu, Priscilla would later become his wife. Priscilla Beaulieu, not quite fifteen when she met Elvis, he was entranced with her amazing beauty, Elvis couldn`t take his eyes off her.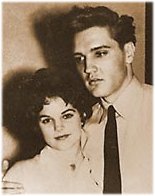 On this day May 1, 1967 Elvis Presley took his bride Priscilla Anne Beaulieu to the altar and became husband and wife, after keeping Priscilla guarded for four years behind the wall of Graceland before their marriage.
Elvis and Priscilla nine months later were the very proud parents of their beautiful baby girl, Lisa Marie was born February 1, 1968.
On October 9, 1973. Elvis and Priscilla were divorced.
Linda Thompson:
Linda came into Elvis Presley`s life at a time he needed, as he was hurting from his divorce with Priscilla.
Linda is of course a beautiful woman; her beauty may have been the attraction that brought her into Elvis`s life.
Linda being a real southern lady, her beauty wasn`t only skin deep she is a southern lady with a beautiful soul and spirit, humor and compassion.
It has been said Linda was by far the closest to Elvis besides Priscilla.
Linda being a southern girl, with high morals, but easy going and a big heart, Elvis highly respected Linda.
Elvis showered her with beautiful gifts, credit cards, cars, clothes, a home, and anything else she wanted.
But it wasn`t all about just the benefits, being in a relationship with Elvis Presley, she developed a very deep love for the man.
Linda stayed with Elvis longer than his own wife.
Being Elvis`s girl friend was heavy stuff, you do what he does and that`s it.
Linda did it because she cared deeply for him, and for five years-traveled with him, took care of him, she had the power to cheer him up when he was down she would share in his interests with religion and other subjects, and then transform from a buddy into a sexy, mature woman to became his lover.
Linda loved Lisa Marie`s visits, they got along wonderful the feeling was quite mutual on Lisa`s part; Linda and Priscilla became really good friends.
Elvis offered to buy Linda`s parents a home, which he did, Linda`s brother Sam would become part of the group working for Elvis as his personal bodyguard.
Linda would benefit greatly being Elvis Presley`s girl friend, but was she happy?
Emotionally the bottom line of their relationship was leaving their relationship between a commitment and a more `open` relationship, which Elvis felt more than comfortable with.
Elvis was going to get Linda her own home so then Elvis could have other woman to his house in Memphis, Elvis did love Linda in his own way.
At times Linda went along on dates as Elvis`s friend while he was with other women, but it was only a matter of time before Linda too began to stray.
` Linda truly loved Elvis`, its believed that Linda would have loved him even if he hadn`t been `Elvis Presley,` King of Rock and Roll.
The reasons for their split up is thought to be because Linda felt they would never get married, so she gave up hope after all those years that would lead nowhere.
Linda had been with Elvis for five years and cared deeply for him, but being in her mid Twenties needed to be in touch with the rest of the world, she had to get out and no longer be locked in by Elvis.
They both just kind of bowed out of the relationship gracefully, and gradually, they would remain the best of friends.
With Linda no longer by his side, Elvis seemed more than ever before, so alone.
Another very special lady taken for granted, just like his ex-wife, Priscilla.
With Linda no longer in his life, Elvis seemed to rapidly age, his health problems and the drugs where becoming a real concern.
`Elvis became so very lonely,` and tried to full fill his loneliness with female companionship.
With brief flings, affairs, flirtations and encounters, he was seen with Cybill Shepherd and a model Sheila Ryan, then there was Ann Pennington and Mindy Miller also performed a brief fandango with Elvis, but flitted away, like many others also did.

When Elvis and Ginger met, his state of mind was becoming more depressed, Ginger was on a mission to try and make him happy.

Ginger was very pretty, with long dark hair, brown eyes, with a voluptuous figure.

But Elvis was attracted to Ginger more so to do with her youth, with hope to restore Elvis`s youthful vigor, beauty and innocence, and at forty was slipping away from him day by day, and that the idea that Ginger would keep him forever young,

Ginger was young and innocent, who didn`t have a bad name and the fact that Ginger hadn`t been about much, also attracted Elvis to begin a relationship with her, he would feel more secure knowing she hadn`t known many other men and she would be more adaptable to his life style.

Elvis`s friend`s and family kept their thoughts to them selves about the relationship, as Elvis would expect of them, but as time went by it was more evident that, although Ginger simply trying to fit the roll as Elvis`s girlfriend.

But being young she just didn`t know what was going on, and at times she became freaked out with the pressure of not knowing how to act or what to do.

There were comparisons made with Priscilla, by Elvis`s fans and the gossip columns that Ginger resembled Cilla in the sixties, but the general feeling on that, between the family members was `Cilla outclassed Ginger one hundred percent.`

Elvis had really fallen for Ginger, but the age difference was a big factor, it became obvious they had little in common.

But Elvis was also afraid of losing her, and although Ginger`s youth and his age left Elvis with an uneasy feeling, he may have been engaged to Ginger, but would he have really married this young girl?

Family members had the feeling Elvis was being taken advantage of, and when all is said and done Ginger was out for a dollar or two, and proved it after Elvis had died.

The saddest part of the relationship is that Elvis would spend the last, and most suffering year of his life with someone younger, which unfortunately hardly understood what was happening to him.

On that fateful August morning when Ginger was needed the most, she remained in bed asleep, while Elvis Presley, alone faced the final curtain.

We the fans have felt a great loss!

Next Page:
Chapter 6 ` Elvis Presley Memphis Mafia history and interviews.

Download book version of this site `Elvis Presley Forever` with his life story in full


The contents of this Elvis Presley biography girlfriends & lovers site is written by a fan for his fans

Back to Top of page

Terms of Use | Privacy Policy | Site Map | Elvis Presley Forever Links Directory | Contact Us | Subscribe to `Elvis Presley Forever!` newsletter | Download Site as a Book | Home page | Elvis Presley biography Blog | About Us

=================================================
SITE DISCLAIMER: The contents of this Elvis Presley biography girlfriends & lovers site is written by a fan for his fans The Elvis Presley biography information and resources on this site are provided for your entertainment only. No content on this Elvis Presley biography site is intended to be a substitute for therapy or professional advice. While all attempts have been made to verify information provided in this Elvis Presley biography publication, neither the author nor the publisher assumes any responsibility for errors, omissions or contrary interpretation of the Elvis Presley biography or Elvis Presley picture subject matter herein. There is no guarantee of validity of accuracy of any Elvis Presley biography content. Any perceived slight of specific people or organizations is unintentional. This Elvis Presley biography website and its creators are not responsible for the content of any sites linked to.

The Elvis Presley biography contents are solely the opinion of the author and should not be considered as a historical fact or authority on the facts. The Elvis Presley biography author and the Elvis Presley biography Publisher of Elvis Presley biography assume no responsibility or liability and specifically disclaim any warranty, express or implied for any products or services mentioned, or any techniques or practices described. The purchaser or reader of this publication assumes responsibility for the use of these materials and articles and information. Neither the author nor the Publisher assumes any responsibility or liability whatsoever on the behalf of any purchaser or reader of these Elvis Presley biography materials.

Description of Elvis Presley biography site contents: This site contains Elvis Presley biography information, website written by a fan for his fans.
=================================================


Back to Top of page Elvis Presley biography




This page is dedicated to providing the site visitor with quality Elvis Presley biography girlfriends & lovers information, pictures and articles for your entertainment. The contents of this Elvis Presley biography girlfriends & lovers site is written by a fan for his fans.