Chapter 4.
Elvis Presley Band members & their stories
on Elvis Presley biography website
This page is dedicated to providing the site visitor with quality Elvis Presley biography band members information, pictures and articles for your entertainment. The contents of this Elvis Presley biography band members site is written by a fan for his fans.
Read More information here "Elvis Presley Urban legends:
"We do two shows a night for five weeks. A lotta times we'll go upstairs and sing until daylight — gospel songs. We grew up with it...It more or less puts your mind at ease. It does mine."
-Talking about the informal jam sessions he and the band and entourage enjoy each night during the lengthy Vegas engagements. These happen upstairs in Elvis' suite at the Las Vegas Hilton as they all try to "wind down" from the excitement and energy of the live shows. Quote is from a 1972 taped interview used in MGM's documentary Elvis on Tour
July 19, 1954
Sun releases "That's All Right" and "Blue Moon of Kentucky" by Elvis Presley, backed by guitarist Scotty Moore and bassist Bill Black.
Joe Esposito
Joe Esposito was Elvis' road manager and was foreman of his entourage. He worked for Elvis from 1960 to 1977.
D.J. Fontana
D.J. Fontana was Elvis' drummer on stage 1955-61 and in recording sessions from 1956 through much of the 1960s. He also performed in Elvis' television guest appearances 1956-60, in several of his movies and in Elvis' 1968 television special.
The Imperials
The Imperials were among the vocalists who worked with Elvis on his How Great Thou Art album in the 1960s. They also backed him on stage from 1969 to late 1971 and were the male back-up vocalists for his He Touched Me album. Armond Morales owns the Imperials name and tours with today's configuration of the group.
Other members from the Elvis days have gone their separate ways professionally, but still get together for special projects with Graceland/EPE.
Visit the Official Imperials Website for information about the group's history and what's going on today. Also, visit sites of some of the individual former members: Sherman Andrus, Terry Blackwood, Jake Hess and Jim Murray. The Jordanaires
The Jordanaires were Elvis' primary male back-up vocal group from 1956 to the end of the 1960s. They worked with Elvis in the recording studio, on stage and in his movies. Visit their official web site to learn more.
George Klein
George Klein is a popular Memphis entertainment and media personality. He and Elvis began a lifelong friendship while attending Humes High School together.
George does not have his own web site, but he does present a weekly radio program, The Elvis Hour with George Klein, on 98.1 FM in Memphis on Sundays at 7:00 AM CDT.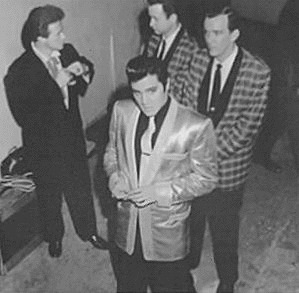 He also has a local television program, Memphis Sounds with George Klein, seen on WYPL-TV (Channel 18) Wednesdays at 7:00 PM, Fridays at 4:00 PM and Sundays at 9:30 AM.

Interview with RED:
Bill Black was one of the craziest guys I ever met, you know, the bass player. We had some good times on the road in those early days and they far overshadow the bad times, although the bad times were bad, but we had too many good times to dwell on that. It's just something that happened. Now we're talking about it, like me, I'm dying for a cigarette right now!!! I have a brother who's addicted to gambling.

I might as well get into this now and tell you. People have come up to me and said, "Why the hell didn't you do something to stop it". They don't know that I did try. They didn't know I got fired because I tried, but his step-brothers and a member of one of the singing groups were bringing these things to him.

When I found out about it I kicked the door in, I stomped the guy's foot and broke his foot, said "You keep bringing them I'm just gonna work my way up". Elvis of course found out about it and I was gone. I'd been with him since junior high school, but the drugs took over in the end and I can understand it in a way because he had no privacy, he was bored with his life.

Scotty Moore
Scotty Moore was Elvis' lead guitarist on stage 1954-61 and in the studio from Elvis' first recordings in 1954 through much of the 1960s. He also performed in Elvis' television guest appearances 1956-60, in several of his movies and in Elvis' 1968 television special. In 2000, he was among the first group of musicians inducted into the Rock and Roll Hall of Fame in their new "sidemen" category.

"It was Scotty Moore's guitar riff when he was doing the Steve Allen Show that got me into rock music. I've been an Elvis fan since I was a kid."Elton John

Rick Nelson


Singer/songwriter/actor Rick Nelson was a contemporary, a friend and a great fan of Elvis Presley. His adult children are his heirs and manage his legacy, including maintaining the official Rick Nelson site. They are very good friends with Graceland/EPE management.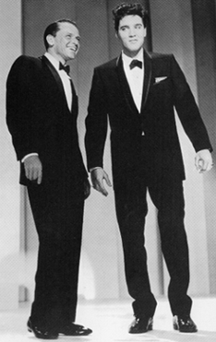 T.G. Sheppard
Before he became a country music star and established his stage name, he was known as William (Bill) Browder. He was a longtime friend of Elvis and, for a while, was also a marketing executive at RCA Records.

J.D. Sumner & The Stamps Quartet


J.D. Sumner & The Stamps Quartet were Elvis' male backing vocal group from 1971 to 1977. The late Mr. Sumner's family maintains the only official web site about this legendary gospel bass singer. The site is temporarily not in operation. A link will be posted here once operation resumes. Ed Enoch and Ed Hill, longtime members of J.D.'s group, along with new members, tour with today's configuration of The Stamps Quartet.

Sweet Inspirations
The Sweet Inspirations were Elvis' female backing vocal group from 1969 to 1977. Visit their official site to see what these lovely ladies are up to now.

TCB Band
Click the heading to go to the site for Elvis' rhythm group from the concert years — the TCB Band: James Burton (lead guitar), Glen D. Hardin (piano), Jerry Scheff (bass guitar) and Ronnie Tutt (drums) and John Wilkinson (rhythm guitar). Also see individual sites for James Burton, Jerry Scheff and John Wilkinson.

Elvis' Generosity Large and small amounts were generously given to those he cared for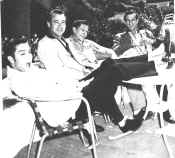 Kathy Westmoreland
Kathy Westmoreland backed Elvis on stage and on recordings 1970-1977. She is the soprano vocalist Elvis referred to in his band introductions as "the little girl with the beautiful high voice."
Celeste Yarnall
Celeste Yarnall has led a multi-faceted career. She began as a model, spokesperson and actress, fresh out of high school, and was discovered by Rick and Ozzie Nelson while walking past their offices at General Service Studios in Hollywood. Elvis sang A Little Less Conversation to Celeste in the film Live a Little, Love a Little. Celeste is also very involved in the health care of dogs and cats through her company, Celestial Pets.
Next Page:
Chapter 5 √ Elvis Presley Girlfriends & the true Loves of his life.
Download book version of this site "Elvis Presley Forever" with his life story in full
Do you have a contribution to make to this site?
Back to Top of page Elvis Presley biography

Terms of Use | Privacy Policy | Site Map | Elvis Presley Forever Links Directory | Contact Us | Subscribe to "Elvis Presley Forever!" newsletter | Download Site as a Book | Home page | Elvis Presley biography Blog | About Us
=================================================
SITE DISCLAIMER: The Elvis Presley biography information and resources on this Elvis Presley biography site are provided for your entertainment only. No content on this Elvis Presley biography site is intended to be a substitute for therapy or professional advice. While all attempts have been made to verify Elvis Presley biography information provided in this Elvis Presley biography publication, neither the author nor the publisher assumes any responsibility for errors, omissions or contrary interpretation of the Elvis Presley biography or Elvis Presley biography Elvis Presley picture subject matter herein. There is no guarantee of validity of accuracy of any Elvis Presley biography content. Any perceived slight of specific people or organizations is unintentional. This Elvis Presley biography website and its creators are not responsible for the content of any sites linked to.
The Elvis Presley biography contents are solely the opinion of the author and should not be considered as a historical fact or authority on the facts. Elvis Presley biography. The author and the Publisher of Elvis Presley biography assume no responsibility or liability and specifically disclaim any warranty, express or implied for any products or services mentioned, or any techniques or practices described. The purchaser or reader of this Elvis Presley biography publication assumes responsibility for the use of these Elvis Presley biography materials and articles and information. Neither the Elvis Presley biography author nor the Elvis Presley biography Publisher assumes any responsibility or liability whatsoever on the behalf of any purchaser or reader of these materials.
Description of Elvis Presley biography site contents: This site contains Elvis Presley biography information, history on Elvis Presley life story, Elvis Presley biography Elvis Presley pictures and photos, Elvis Presley song lyrics, Elvis Presley biography Elvis Presley movie resources, free e-books and articles listed for your convenient search in subjects of: Elvis Presley biography Elvis Presley pictures and photos, Elvis Presley song lyrics, Elvis Presley movie resources, Elvis Presley biography Elvis Presley childhood, Elvis Presley Band members biography, Elvis Presley girlfriends, Elvis Presley spiritual medium stories, Elvis Presley Memphis mafia stories, Elvis Presley diary quotes, Elvis Presley movie and music details in relation to the Elvis Presley autobiography and interviews of friends and family members for the Elvis Presley biography website written by a fan for his fans.
=================================================

Back to Top of page Elvis Presley biography