`Like every artist to emerge during the rock scene Elvis was my influence and my idol.`
Marty Wilde (Rock`n Roll singer)
"I've learned very early in life...without a song, the day would never end. Without a song, a man ain't got a friend. Without a song, the road would never bend, without a song. So I'll keep on singing the song."
Elvis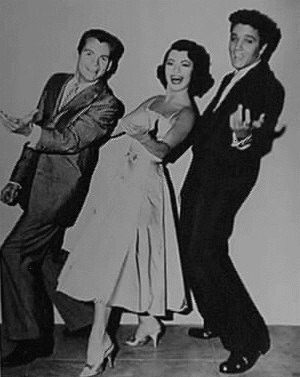 FAMOUS QUOTES ABOUT ELVIS
`Without preamble, the three-piece band cuts loose. In the spotlight, the lanky singer flails furious rhythms on his guitar, every now and then breaking a string. In a pivoting stance, his hips swing sensuously from side to side and his entire body takes on a frantic quiver, as if he had swallowed a jackhammer.`
Time Magazine, May 15, 1956
"His kind of music is deplorable, a rancid smelling aphrodisiac...It fosters almost totally negative and destructive reactions in young people."
Frank Sinatra,1950's
`It isn`t enough to say that Elvis is kind to his parents, sends money home, and is the same unspoiled kid he was before all the commotion began. That still isn`t a free ticket to behave like a sex maniac in public.`
Eddie CondonCosmopolitan, December 1956
`I wanted to say to Elvis Presley and the country that this is a real decent, fine boy.`
Ed SullivanDuring Elvis` third appearance on his show,January 6, 1957
`As the lad himself might say, cut my legs off and call me Shorty! Elvis Presley can act...Acting is his assignment in this shrewdly upholstered showcase, and he does it."
Howard ThompsonReview of King CreoleNew York Times, 1958
`A Presley picture is the only sure thing in Hollywood.`
Hal WallisProducer of nine of Elvis' films.
`There is something magical about watching a man who has lost himself find his way back home...He sang with the kind of power people no longer expect from rock `n` roll singers.`
John LandauReview of Elvis, (1968 TV Special).
`It was the finest music of his life. If ever there was music that bleeds, this was it.`
Greil MarcusFrom his book, Mystery Train, remembering the 1968 TV Special.
`There are several unbelievable things about Elvis, but the most incredible is his staying power in a world where meteoric careers fade like shooting stars.`
Newsweek, August 11, 1969Review of Elvis` Las Vegas engagement.
`...a style and panache that come close to pure magic. Lithe, raunchy, the sweat pouring down his face, he now moves with the precision of an athlete, the grace of a dancer...flamboyant and flashy, sexy and self-mocking, he works with the instincts of a genius to give poetry to the basic rock performance.`
W.A. HarbinsonFrom his 1975 book, The Illustrated Elvis. A passage reflecting upon Elvis' 1969 Vegas engagement.
`So what it boils down to was Elvis produced his own records. He came to the session, picked the songs, and if something in the arrangement was changed, he was the one to change it. Everything was worked out spontaneously. Nothing was really rehearsed. Many of the important decisions normally made previous to a recording session were made during the session. What it was was a look to the future. Today everybody makes records this way. Back then Elvis was the only one. He was the forerunner of everything that`s record production these days. Consciously or unconsciously, everyone imitated him. People started doing what Elvis did.`
Bones HoweRecording EngineerAs quoted in Jerry Hopkins` 1971 book, Elvis, A Biography.
`A lot of people have accused Elvis of stealing the black man`s music, when in fact, almost every black solo entertainer copied his stage mannerisms from Elvis.`
Jackie Wilson
`You have no idea how great he is, really you don`t. You have no comprehension — it`s absolutely impossible. I can`t tell you why he`s so great, but he is. He`s sensational.`
Phil Spector
`Elvis is the greatest cultural force in the twentieth century. He introduced the beat to everything, music, language, clothes, it`s a whole new social revolution — the 60`s comes from it.`
Leonard Bernstein, 1960's.
"There have been many accolades uttered about Elvis' talent and performances through the years, all of which I agree with wholeheartedly. I shall miss him dearly as a friend. He was a warm, considerate and generous man."
Frank Sinatra,1977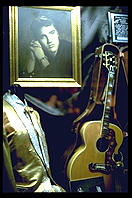 `Elvis Presley`s death deprives our country of a part of itself. He was unique, irreplaceable. More than twenty years ago, he burst upon the scene with an impact that was unprecedented and will probably never be equaled. His music and his personality, fusing the styles of white country and black rhythm and blues, permanently changed the face of American popular culture. His following was immense. And he was a symbol to people the world over of the vitality, rebelliousness and good humor of this country.`
President Jimmy Carter, 1977. His official statement following Elvis' death.
`Elvis had an influence on everybody with his musical approach. He broke the ice for all of us.`
Al Green
`...At Sun Studio in Memphis Elvis Presley called to life what would soon be known as rock and roll with a voice that bore strains of the Grand Ole Opry and Beale Street, of country and the blues. At that moment, he ensured — instinctively, unknowingly — that pop music would never again be as simple as black and white.`
David Fricke Rolling Stone, 1986
`He was an instinctive actor...He was quite bright...he was very intelligent...He was not a punk. He was very elegant, sedate, and refined, and sophisticated.`
Walter Matthau, who co-starred with Elvis in King Creole (1958). From a 1987 interview.
`There have been a lotta tough guys. There have been pretenders. And there have been contenders. But there is only one king.`
Bruce Springsteen
`...it was like he came along and whispered some dream in everybody`s ear, and somehow we all dreamed it.`
Bruce Springsteen
`When I first heard Elvis' voice I just knew that I wasn`t going to work for anybody; and nobody was going to be my boss...Hearing him for the first time was like busting out of jail.`
Bob Dylan
`A lot has been written and said about why he was so great, but I think the best way to appreciate his greatness is just to go back and play some of the old records...Time has a way of being very unkind to old records, but Elvis' keep getting better and better.`
Huey Lewis
`Elvis was the king. No doubt about it. People like myself, Mick Jagger and all the others only followed in his footsteps.`
Rod Stewart
`He was a unique artist — an original in an area of imitators.`
Mick Jagger
`Before Elvis, there was nothing.`
John Lennon
`This boy had everything. He had the looks, the moves, the manager, and the talent. And he didn`t look like Mr. Ed like a lot of the rest of us did. In the way he looked, way he talked, way he acted — he really was different.`
Carl Perkins
`I wasn`t just a fan, I was his brother. He said I was good and I said he was good; we never argued about that. Elvis was a hard worker, dedicated, and God loved him. Last time I saw him was at Graceland. We sang Old Blind Barnabus together, a gospel song. I love him and hope to see him in heaven. There`ll never be another like that soul brother.
James Brown
`He was the firstest with the mostest.`
Roy Orbison
`That`s my idol, Elvis Presley. If you went to my house, you`d see pictures all over of Elvis. He`s just the greatest entertainer that ever lived. And I think it`s because he had such presence. When Elvis walked into a room, Elvis Presley was in the f---ing room. I don`t give a f--- who was in the room with him, Bogart, Marilyn Monroe.`
Eddie Murphy
`He was ahead of his time because he had such deep feelings. He had the privilege of deep feelings because he was deeply loved by his mother, Gladys. He was able to appreciate profound beauty in sounds. And he started a musical revolution. They say all revolutions start from love.`
Imelda Marcos
`It`s rare when an artist`s talent can touch an entire generation of people. It`s even rarer when that same influence affects several generations. Elvis made an imprint on the world of pop music unequaled by any other single performer.`
Dick Clark
`...if any individual of our time can be said to have changed the world, Elvis Presley is the one. In his wake more than music is different. Nothing and no one looks or sounds the same. His music was the most liberating event of our era because it taught us new possibilities of feeling and perception, new modes of action and appearance, and because it reminded us not only of his greatness, but of our own potential.`
Greil MarcusFrom his book, Mystery Train.
`Elvis Presley was an explorer of vast new landscapes of dream and illusion. He was a man who refused to be told that the best of his dreams would not come true, who refused to be defined by anyone else`s perceptions. This is the goal of democracy, the journey on which every American hero sets out. That Elvis made so much of the journey on his own is reason enough to remember him with the honor and love we reserve for the bravest among us. Such men made the only maps we can trust.`
Dave Marsh, famous quote.From his book, Elvis.
`It`s always been my dream to come to Madison Square Garden and be the warm-up act for Elvis.`
Senator Al Gore
Accepting the nomination for vice president at the 1992 Democratic Convention & prior to Bill Clinton's (aka "Elvis" by his security staff) acceptance of the presidential nomination.
`You know, Bush is always comparing me to Elvis in sort of unflattering ways. I don`t think Bush would have liked Elvis very much, and that`s just another thing that`s wrong with him.`
Bill ClintonDuring the 1992 presidential campaign.
"He had total love in his eyes when he performed. He was the total androgenous beauty. I would practice Elvis in front of the mirror when I was twelve or thirteen years old."
k.d. lang
"I'm sitting in the drive-through and I've got my three girls in the back and this station comes on and it's playing "Jailhouse Rock," the original version, and my girls are jumping up and down, going nuts. I'm looking around at them and they've heard Dad's music all the time and I don't see that out of them."
Garth Brooks
"Ask anyone. If it hadn't been for Elvis, I don't know where popular music would be. He was the one that started it all off, and he was definitely the start of it for me."
Elton John
"It was Elvis that got me interested in music. I've been an Elvis fan since I was a kid."
Elton John
"The first concert I attended was an Elvis concert when I was eleven. Even at that age he made me realize the tremendous effect a performer could have on an audience."
famous quote by Cher
"Elvis was a giant and influenced everyone in the business."
Isaac Hayes
"I learned music listening to Elvis' records. His measurable effect on culture and music was even greater in England than in the States."
Mick Fleetwood
"I remember Elvis as a young man hanging around the Sun studios. Even then, I knew this kid had a tremendous talent. He was a dynamic young boy. His phraseology, his way of looking at a song, was as unique as Sinatra's. I was a tremendous fan, and had Elvis lived, there would have been no end to his inventiveness."
famous quote by B.B. King
"I don't think there is a musician today that hasn't been affected by Elvis' music. His definitive years — 1954-57 — can only be described as rock's cornerstone. He was the original cool."
Brian Setzer
FAMOUS QUOTES BY ELVIS
`Some people tap their feet, some people snap their fingers, and some people sway back and forth. I just sorta do `em all together, I guess.`
-Elvis in 1956, famous quote talking about his way of moving on stage.
"I ain't no saint, but I've tried never to do anything that would hurt my family or offend God...I figure all any kid needs is hope and the feeling he or she belongs. If I could do or say anything that would give some kid that feeling, I would believe I had contributed something to the world."
-Elvis commenting to a reporter, 1950's.
`Don`t criticize what you don`t understand, son. You never walked in that man`s shoes.`
-Elvis often used this adaptation of a well-known quotation.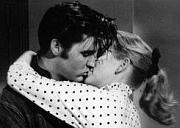 `When I was a child, ladies and gentlemen, I was a dreamer. I read comic books, and I was the hero of the comic book. I saw movies, and I was the hero in the movie. So every dream I ever dreamed has come true a hundred times...I learned very early in life that: `Without a song, the day would never end; without a song, a man ain`t got a friend; without a song, the road would never bend — without a song.' So I keep singing a song. Goodnight. Thank you.`

-From his acceptance speech for the 1970 Ten Outstanding Young Men of the Nation Award. Given at a ceremony on January 16, 1971. (Elvis quotes from copyrighted material with lines from the song `Without a Song`.)
`We do two shows a night for five weeks. A lotta times we`ll go upstairs and sing until daylight — gospel songs. We grew up with it...It more or less puts your mind at ease. It does mine.`
-Talking about the informal jam sessions he and the band and entourage enjoy each night during the lengthy Vegas engagements. These happen upstairs in Elvis` suite at the Las Vegas Hilton as they all try to `wind down` from the excitement and energy of the live shows. Quote is from a 1972 taped interview used in MGM`s documentary `Elvis on Tour`.
`I`ve never gotten over what they call stagefright. I go through it every show. I`m pretty concerned, I`m pretty much thinking about the show. I never get completely comfortable with it, and I don`t let the people around me get comfortable with it, in that I remind them that it`s a new crowd out there, it`s a new audience, and they haven`t seen us before. So it`s got to be like the first time we go on.`
-From a 1972 taped interview used in MGM`s documentary `Elvis on Tour`.
`The first time that I appeared on stage, it scared me to death. I really didn`t know what all the yelling was about. I didn`t realize that my body was moving. It`s a natural thing to me. So to the manager backstage I said `What`d I do? What`d I do?` And he said `Whatever it is, go back and do it again`.`
-From a 1972 taped interview used in MGM`s documentary `Elvis on Tour`.
`Man, I was tame compared to what they do now. Are you kidding? I didn`t do anything but just jiggle.`
-famous quote by Elvis from the press conference prior to his record-breaking Madison Square Garden shows in New York City, 1972.
`...the image is one thing and the human being is another...it`s very hard to live up to an image.`
-From the press conference prior to his record-breaking Madison Square Garden shows in New York City, 1972.
`A live concert to me is exciting because of all the electricity that is generated in the crowd and on stage. It`s my favorite part of the business — live concerts.`
-Elvis at a press conference prior to his 1973 television special, `Elvis — Aloha from Hawaii, via Satellite`.
` `Til we meet you again, may God bless you. Adios.`
-Said in 1977 at the end of a concert during his last tour.
"Ambition is a dream with a V8 engine."
Elvis Presley (1935 — 1977) US singer, actor In "Rand Lindsly's HUGE Quotations File," an Internet collection of quotations.
"I don't know anything about music. In my line you don't have to. "
Elvis Presley (1935 — 1977) US singer, actor
"I have no use for bodyguards, but I have a very special use for two highly trained certified public accountants. "
Elvis Presley (1935 — 1977) US singer, actor In "Webster's Electronic Quotebase," ed. Keith Mohler, 1994.
"I knew by heart all the dialogue of James Dean's films; I could watch "Rebel Without a Cause" a hundred times over. "
Elvis Presley (1935 — 1977) US singer, actor In "James Dean in His Own Words," 1989.
"I've had the boyhood thing of being Elvis. Now I want to be with my best friend, and my best friend's my wife. Who could ask for anything more? "
John Lennon (1940 — 1980) English singer, songwriter, musician Interview for KFRC RKO Radio, given 8 Dec. 1980, the day of Lennon's murder.
"If life was fair, Elvis would be alive and all the impersonators would be dead."
Johnny Carson (1925 — ____) US talk show host, comedian. In The Ultimate Success Quotations Library, 1997.
"People ask me where I got my singing style. I didn't copy my style from anybody . . . . Country music was always an influence on my kind of music. "
Elvis Presley (1935 — 1977) US singer, actor In "The Book of Country Music Wisdom," ed. by Criswell Freeman, 1994.
Next Page:
Elvis Presley self help Blog
Download book version of this site `Elvis Presley Forever` with his life story in full
What Elvis Presley biography information are you looking for?
Try a local search of our site for your answers

Back to Elvis Presley famous quotes biography Home Page



Do you have a contribution to make to this site?
Read the latest articles here:
Click below to see contributions from other visitors to this page...


Description of site contents: This site contains Elvis Presley biography information, history on Elvis Presley biography life story, Elvis Presley biography pictures and photos, Elvis Presley biography song lyrics, Elvis Presley biography movie resources, free e-books and articles listed for your convenient search in subjects of: Elvis Presley biography pictures and photos, Elvis Presley biography song lyrics, Elvis Presley movie resources, Elvis Presley biography childhood, Elvis Presley biography Band members biography, Elvis Presley biography girlfriends, Elvis Presley biography spiritual medium stories, Elvis Presley biography Memphis mafia stories, Elvis Presley biography diary and self help motivational quotes, Elvis Presley biography movie and music details in relation to the Elvis Presley autobiography and interviews of friends and family members for the Elvis Presley biography website written by a fan for his fans.
Back to Top of page

Terms of Use | Privacy Policy | Site Map | Elvis Presley Forever Links Directory | Contact Us | Subscribe to `Elvis Presley Forever!` newsletter | Download Site as a Book | Home page | Elvis Presley biography Blog | About Us
=================================================
SITE DISCLAIMER: The Elvis Presley biography information and resources on this site are provided for your entertainment only. No content on this site is intended to be a substitute for therapy or professional advice. While all attempts have been made to verify information provided in this Elvis Presley biography publication, neither the author nor the publisher assumes any responsibility for errors, omissions or contrary interpretation of the Elvis Presley biography or Elvis Presley picture subject matter herein. There is no guarantee of validity of accuracy of any Elvis Presley biography content. Any perceived slight of specific people or organizations is unintentional. This Elvis Presley biography website and its creators are not responsible for the content of any sites linked to.
The Elvis Presley biography contents are solely the opinion of the author and should not be considered as a historical fact or authority on the facts. The author and the Publisher of Elvis Presley biography assume no responsibility or liability and specifically disclaim any warranty, express or implied for any products or services mentioned, or any techniques or practices described. The purchaser or reader of this Elvis Presley biography publication assumes responsibility for the use of these Elvis Presley biography materials and articles and information. Neither the author nor the Elvis Presley biography Publisher assumes any responsibility or liability whatsoever on the behalf of any purchaser or reader of these materials.
Description of site contents: This site contains Elvis Presley biography information, history on Elvis Presley biography life story, Elvis Presley biography pictures and photos, Elvis Presley biography song lyrics, Elvis Presley biography movie resources, free e-books and articles listed for your convenient search in subjects of: Elvis Presley biography pictures and photos, Elvis Presley biography song lyrics, Elvis Presley movie resources, Elvis Presley biography childhood, Elvis Presley biography Band members biography, Elvis Presley biography girlfriends, Elvis Presley biography spiritual medium stories, Elvis Presley biography Memphis mafia stories, Elvis Presley biography diary quotes, Elvis Presley biography movie and music details in relation to the Elvis Presley autobiography and interviews of friends and family members for the Elvis Presley biography website written by a fan for his fans.
=================================================

Back to Top of page Elvis Presley biography famous quotes