Chapter 2. Early Fame
story background of Elvis Presley biography website of his early fame and rise to his family`s first fame and fortune
This page is dedicated to providing the site visitor with quality Elvis Presley biography early fame and first rise to fame and fortune, information, pictures and articles for your entertainment. The contents of this Elvis Presley biography early fame and first rise to fame and fortune, site is written by a fan for his fans.
`Before Elvis there was nothing.`
John Lennon
Early Fame — on becoming "The King"
In 1954 Elvis went to the Mississippi Alabama State Fair.
It was there, at the age of ten that Elvis stood on a chair in front of hundreds of people, unaccompanied by music, Elvis sang `Old Shep,` a sentimental ballad about a boy and his dog.

Elvis was awarded second prize.

It was the very first time in his life he ever got anything for just singing.

Read more information here about Elvis Presley Star sign And Fame

Read here find out more about his remarkable voice with comments from his fans in their survey replies to me and more Elvis Presley ` Voice Characteristics

Read more here about Gospel Influences on Elvis Presley

Elvis learned a simple but important lesson that day. His voice was powerful and singing could make his fantasies come true.

The day after graduation he took a job at Parker Machinists Shop. By June was working at the Precision Tool Company and then drove truck for the Crown Electric Co.

After a short time in the stock room he is promoted to truck and began to wear his long hair pompadoured, the current truck driver style.

On the way out to jobs in a Ford pickup, Elvis would drive by the Memphis Recording Service.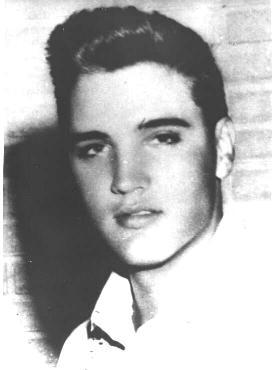 One Saturday Elvis stopped by the recording services with his old guitar with plans to record his mother a birthday present.

The place was busy so Elvis took a seat and patiently waited his turn.

Elvis cut 2 songs `My Happiness` and the second `That`s When Your Heartaches Begin.`

Elvis`s name and address were taken, much to Elvis`s surprise.

The tape was taken to the boss, Sam C. Phillips ` owner of Sun Records. Sam was impressed, but not enough to call Elvis.

Sam promised Elvis nothing, only `he would keep him in mind if something comes up.`

January 4 — Elvis Presley visits the Memphis Recording Service to record "Casual Love Affair" and "I'll Never Stand in Your Way"

June 27 — After several fruitless recording sessions, Sam Phillips pairs Elvis Presley with guitarist Scotty Moore and bass player Bill Black.

He hopes the singer might find his voice by rehearsing with other musicians cut from the same country, pop, gospel and R&B; cloth.

Though July 4 is often sited as their first meeting, the three had actually been practicing for several months.

July 5 Rock and roll history is made when Elvis Presley, Scotty Moore and Bill Black perform bluesman Arthur "Big Boy" Cruddup's "That's All Right" in romping, uptempo style.

The next day, bluegrass pioneer Bill Monroe's "Blue Moon of Kentucky" is given a similarly playful treatment.

Two days later Memphis disc jockey Dewey Phillips played "That's All Right" on his Red Hot and Blue show on radio station WHBQ.

Audience response was overwhelming and later that night Presley came in for his first interview.
By the time the record was ready for release Sam already had orders for five thousand copies, and went on to sell twenty thousand copies.
On July 19th the two songs are released as Elvis Presley's first single, which bears the legend "Sun 209."
Scotty Moore became his manager. His first record `That`s Alright Mama` with the flip side `Blue Moon of Kentucky` sold 7,000 copies within a week.
Elvis signed a three year contract with Sun Record Company.
On this day 30th July Elvis made his first professional stage appearance at Overton Park Shell in Memphis. Elvis was very nervous as he walked out to perform `Good Rockin` Tonight`.
Elvis was feeling high and pumped up to be appearing on a show he had only dreamed about.
Pacing back stage, thinking about the thirty five hundred people out in the audience.
He felt his voice wasn`t doing it alone so he threw his body into the music, his feet began to shuffle, the knees bent and shook, his hips swiveled and pumped in time to the music.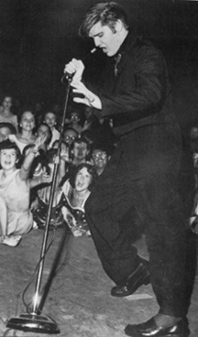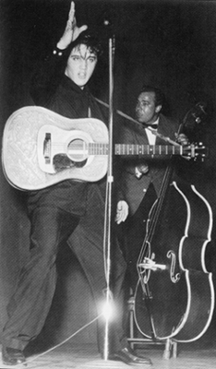 All of a sudden Elvis was sexy, sensuous, dark and dangerous!
This day 10th August Elvis wowed the fans in a concert at Overton park in Memphis, stealing the show from country star Webb Pierce.
`I`ve never gotten over what they call stage fright.
I go through it every show. I`m pretty concerned, I`m pretty much thinking about the show.
I never get completely comfortable with it, and I don`t let the people around me get comfortable with it, in that I remind them that it`s a new crowd out there, it`s a new audience, and they haven`t seen us before.
So it`s got to be like the first time we go on.`
-From a 1972 taped interview used in MGM`s documentary Elvis on Tour.
`The first time that I appeared on stage, it scared me to death.
I really didn`t know what all the yelling was about. I didn`t realize that my body was moving. It`s a natural thing to me.
So to the manager backstage I said `What`d I do? What`d I do?` And he said `Whatever it is, go back and do it again`.`
-From a 1972 taped interview used in MGM`s documentary Elvis on Tour.
`Man, I was tame compared to what they do now. Are you kidding? I didn`t do anything but just jiggle.`
-From the press conference prior to his record-breaking Madison Square Garden shows in New York City, 1972.
On this day 9th September Elvis played at the opening of the Katz Drug store in Memphis, from the back of a flatbed truck.
On September 25 Presley made his first and last appearance at the Grand Ole Opry.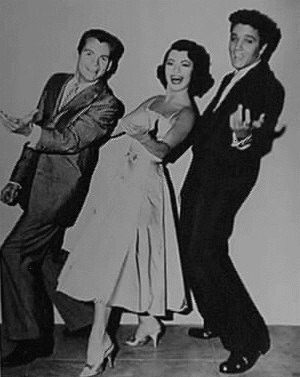 On this day 25th September Elvis`s, second record was released.
`Without Elvis, none of us could have made it.` Buddy Holly
1955
In the year 1955 Elvis`s first Sun releases received the favorable attention of Billboard Magazine.
On May 13, his performance in Jacksonville started a riot, his first.
"Baby Lets Play House" b/w "I'm Left, Your Right, She's Gone" was released and reached #10 on the national Country & Western chart in July.
In early 1955, Moore quit managing Presley, but continued playing in his band for several years.
Bob Neal, a Memphis disc Jockey, became Presley's new manager.
Colonel Thomas Parker first entered Presley's career when he helped Neal make some tour arrangements.
August 15 — Elvis Presley signs a management contract with "Colonel" Tom Parker, whose other clients included country-music stars Eddy Arnold and Hank Snow.
The contract lasted Presley's lifetime and beyond, for which he was to receive 25% of his earnings.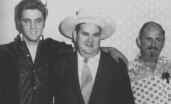 That September Presley had his first #1 country record "Mystery Train" b/w "I Forgot to Remember to Forget.
By this time Colonel Parker, despite the agreement with Neal, had become increasingly involved with Presley's career and had negotiated for RCA to purchase Presley's contract from Sun Records for $35,000.
Presley received a $5,000 advance that he used to buy his mother a pink Cadillac.
SCHILLING: "Well, I don't think there's anybody that can manage Elvis, when you really look at it, outside the colonel. The colonel did a great job, you know.
And you know, maybe there was a few creative things, but he really -- these guys loved each other, actually. And Elvis had respect."
WESTMORELAND: "The colonel had -- that was his thing. He loved to try to buffalo people. That was the way he operated. But underneath it, he was a really sweet..."
STANLEY: I liked Colonel Parker and I think he did a phenomenal job. But I have to quote my brother, Ricky, who unfortunately missed out tonight.
The great quote is this: "If Colonel Parker made Elvis Presley, then why didn't he make another one?"
November 1 — Despite Presley's growing popularity, his five Sun singles fail to make a dent on the national charts.
November 20-22 — Elvis Presley's contract with Sun Records, including all previously released and recorded material, is sold to the New York-based RCA Victor label for $35,000.
17th December Elvis gave his last performance on the influential Southern radio program `Louisiana Hayride.`
His first appearance on a televised segment of this program had helped to launch his career.
1956
Presley became a national star in 1956. Presley went to Nashville to record his first records for RCA. Among them was "Heartbreak Hotel."
On January 28, 1956, he made his television debut on the Dorsey brothers' Stage Show, followed by six consecutive appearances.
Presley appeared on the Milton Berle, Steve Allen, and Ed Sullivan television shows.
That April Presley made his debut in Las Vegas at the New Frontier Hotel.
The two week engagement was cancelled after a week due to poor audience response. In August Presley began filming his first film Love Me Tender.
Released three months later the it recouped its filming cost of $1 million in three days.
His singles that year which included "Heartbreak Hotel," "I Was the One," "Blue Suede Shoes," "I Want You, I Need You, I Love You," "Hound Dog," "My Baby Left Me, "Anyway You Want Me," "Love Me Tender," "Don't Be Cruel," "Love Me," and "When My Blue Moon Turns To Gold" all were certified gold.
10th January 1956, Elvis cut five tracks at the RCA Studio in Nashville. `Heartbreak Hotel` was the second one recorded.
This was the record that Elvis Presley, at the age of twenty one, cast his fate to the winds of history.
`Some people tap their feet, some people snap their fingers, and some people sway back and forth. I just sorta do `em all together, I guess.`
-Elvis in 1956, talking about his way of moving on stage.
"I ain't no saint, but I've tried never to do anything that would hurt my family or offend God...I figure all any kid needs is hope and the feeling he or she belongs.
If I could do or say anything that would give some kid that feeling, I would believe I had contributed something to the world."
-Elvis commenting to a reporter, 1950's.
28th January Elvis made his first appearance on the national television program Jackie Gleason`s Stage Show.
There were to be six performances up to March 24. In the same year on the 31st of January, Elvis also recorded the all time hit `Blue Suede Shoes`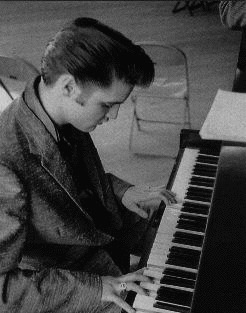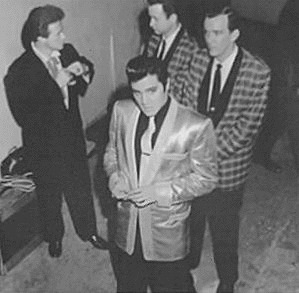 4th February Elvis appeared on Jackie Gleasons`s Stage Show, on national television he sang `Tutti Frutti` and `I was the One`
11th February, Elvis again appeared on Jackie Gleanson`s State show, singing `shake, Rattle and Roll`, `Flip, Flop and Fly` and `I got a Woman`.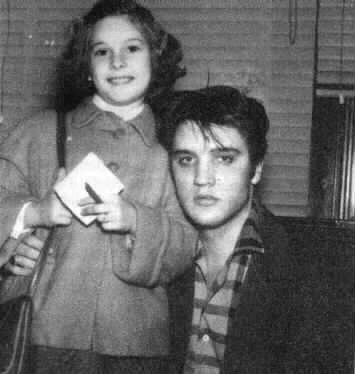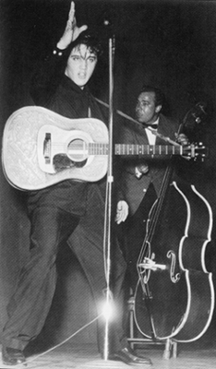 23rd April Elvis Presley performed in the Venus Room at the New Frontier Hotel in Las Vegas.
The adverse reaction to his week of shows there made him shun the stage at Las Vegas for thirteen years.
`THE KING`
`...the image is one thing and the human being is another...it`s very hard to live up to an image.`
-From the press conference prior to his record-breaking Madison Square Garden shows in New York City, 1972.
`A live concert to me is exciting because of all the electricity that is generated in the crowd and on stage. It`s my favorite part of the business — live concerts.`
-Elvis at a press conference prior to his 1973 television special, Elvis — Aloha from Hawaii, via Satellite.
2nd July Elvis recorded his famous hit `Hound Dog`.
The flip side of the record featured `Don`t be Cruel`.
His songs exploded like concussion bombs ` Elvis`s dreams and fantasies materialized with breathtaking speed.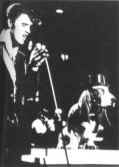 Back in Memphis he took $40,000 and plunked it down for a ranch house at 1034 Auduben Drive.
Read here about Elvis Presley's former estate Elvis Presley Enterprises:


3rd September Elvis recorded his first album `Elvis` for RCA. It included a rendition of a song which had won him second prize in a concert as a boy, `Old Shep`.
25th September Elvis`s home town of Tupelo, Mississippi held a celebration to mark the town`s `Elvis Presley Day`. He gave two outdoor performances on the day,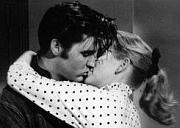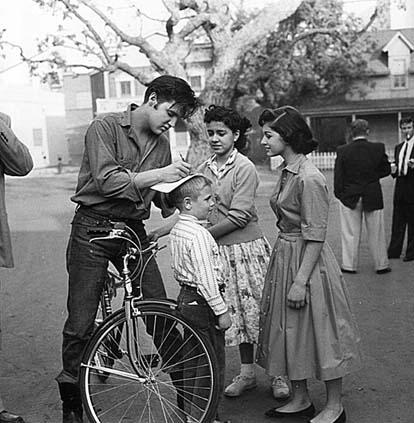 1st October Elvis recorded `Too Much` which reached number #2 in the charts and became his first major single since `Hound Dog` earlier in July.
28th October Elvis made his second appearance on TV`s `Toast of the Town` hosted by Ed Sullivan, coast to coast, singing `Hound Dog`.
Cut off from the waist down by the television camera, while his mere presence erupted the madness in the theatre.
November 15, — The film Love Me Tender, which features Elvis Presley in the first of 31 Hollywood movie roles, premieres at the New York Paramount.
Two months earlier, on September 9th, he performed the title song on the Ed Sullivan Show to a record viewing audience estimated at 54 million.
December 4, — Four legendary past and present Sun Records recording artists ` Elvis Presley, Jerry Lee Lewis, Carl Perkins and Johnny Cash ` gather at Sun for an informal jam session.
Later dubbed the Million Dollar Quartet, the stars (sans Cash, who stays only briefly) perform gospel standards and recent hits in relaxed, impromptu fashion.
The recordings aren't officially released until the mid-Eighties.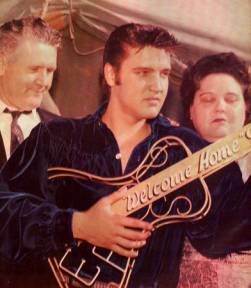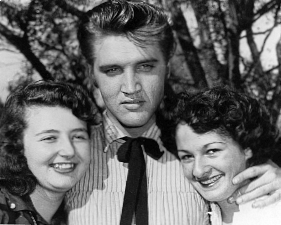 1957
January 8

Elvis Presley passes the pre-induction exam for the Army.
Leiber & Stoller are summoned to New York by Elvis's Brill Building music publisher to write songs for the movie 'Jailhouse Rock.' The title song soon reaches #1.
In early 1957 Presley became the target of criticism by teachers, clergymen, and even other entertainers who his style was too suggestive.
He was nicknamed "Elvis the Pelvis" by one writer.
On January 6, he made the last of his three appearances on the Ed Sullivan Show and was shown only from the waist up.
Ed Sullivan had once said he would never have the controversial singer on his top-rated show, but that was before the week that Elvis` appearance on Steve Allen had surpassed Sullivan`s ratings.
Sullivan paid Elvis $50,000 to make three appearances on his show, which was, at the time, more money than any performer had ever been paid to appear on a network variety program.
When Elvis made his third Sullivan appearance in January of 1957, Ed Sullivan surprised Elvis by telling him on camera that his show had never had a better experience with a name act, and said `I wanted to say to Elvis and the country that this is a real decent, fine boy.`
It was on this very same Sullivan appearance that Elvis was shown on camera from the waist up only, one of early television history`s most memorable moments.
23rd February Elvis first recorded the classic hit `let Me Be Your Teddy Bear`. It went to number #1 on the charts, as did `All Shook Up` and `Jailhouse Rock`.
Check it out here All Shook Up Tickets — Broadway And "The King" Come Together


In February `All Shook Up` headed for eighteen weeks at the top number one on the charts.
In March Presley purchased Graceland, a former church and converted it into a twenty three room mansion.
Read more here about the home of Elvis which is also a National Historic Landmark today Graceland Home of Elvis Presley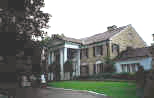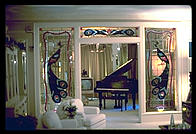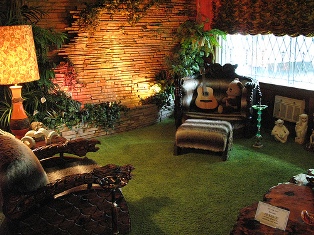 Are you looking for a Classic Tri Tone Leather Sofa?



Approximately 675,000 people visit Graceland yearly
Presley was the first rock star to crossover into films with consistent commercial success.
Loving You, his second film, was released in July 1957 and "Teddy Bear" from it's soundtrack went to #1 on the pop, country, and R&B; charts, as did "All Shook Up" and "Jailhouse Rock," the title song from his next movie.
December 19,
That December he received his draft notice, while home at Graceland for the Christmas holidays, but was given a 30 day deferment to complete the filming of King Creole.
1958
He is sworn in as a private in the U.S. Army on March 24.
"Private Presley #3310761" attended his basic training at a site that has been variously reported as being in "Fort Hood, Texas" and/or at "Fort Chaffee, Arkansas" as well as at "Killeen, Texas".
Article also continues below for more information about `Elvis Presley ` his Military service: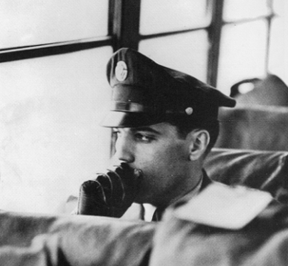 Elvis went to Nashville ten weeks later on a weekend pass and recorded several hits for RCA.
The next months saw number one hits with "Don't" and "I Beg You."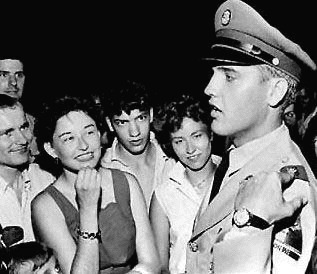 THE DAY GLADYS PRESLEY DIED By Lea Frydman (Content Manager: www.elvispresleynews.com )

During this time Gladys became ill and was admitted to the Methodist Hospital, where she was finally diagnosed with a serious case of Hepatitis four days later.

In August Elvis was finally granted "compassionate leave" to be able to visit his mother and hold a vigil by her hospital bedside as her condition quickly detiorated.

Sadly, on August 14th. Gladys passed away at 3 a.m. — without Elvis by her side.

For all the next two days Gladys lay in state at Graceland with a crushed Elvis sitting grief-stricken next to her coffin.

When Gladys was finally buried, Elvis became hysterical with grief at the graveside and was inconsolable, screaming "Everything I have is gone!" and "Please don't take my baby away. She's not dead! She's just sleeping."

But within four weeks he was shipped off to serve in Germany, and simply did not have the time or opportunity to grieve properly for the loss of his one true love in his life — his beloved mother.

Lamar Fike, witness at Gladys' funeral recalls "He carried his mother's nightgown around for weeks... Wouldn't put it down for anything. Slept with it and cried all the time... He didn't seem like Elvis ever again."

Many family members re-iterated the sentiments that after his mother died, Elvis changed for he never had time alone to grieve.

Elvis considered this to be the greatest tragedy in his life.

Read the full article at: www.elvispresleynews.com/GladysPresleyDies.html
Re-printed with permission


He returned to the Army and was shipped to Bremerhaven, West Germany.

He served in Company D, 32nd Tank Battalion, 3rd Armor Corps, from October 1, 1958, to March 1 (or 5), 1960.

In January 1960 he was promoted to sergeant.

Elvis drove a jeep for Sgt. Ira Jones, and was honorably discharged on March 5, 1960.

During his time in the service Colonel Parker continued to release Elvis's singles recorded before his departure so his fans wouldn't forget him.

A number of these were hits including "Wear My Ring Around Your Neck," "Don't cha Think It's Time," "Hard Headed Woman," "Don't Ask Me Why," "One Night," "I Got Stung," "A Fool Such as I," "I Need You, I Love You," "A Big Hunk O' Love," and "My Wish Came True".

Many have since wondered why an only child ` by then the sole support of his parents and grandmother ` was drafted during peacetime, since his services were clearly not critical for the defense of his country.

It has long been suspected that Elvis' draft notice was either politically instigated to shunt his "dangerous", "race-mixing" influence, or quietly encouraged by his manager in order to keep the increasingly world-wise Southern lad under his thumb.

While in the army, he also received a black belt in karate. When he left the Army he continued his karate training with a personal trainer at his home.

Originally Presley intended to be a serious actor. Unfortunately after he left the service, the choice of roles was left entirely to Colonel Parker — with famously poor results.

Since Presley would not tour until the early Seventies, it was through these movies that most fans saw him and that alone accounted for their massive success. If you wanted to see Elvis, you only had the movies....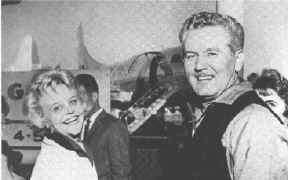 In 1958 alone Presley earned over $2 million. After his release, in March 1960, he recorded his first stereo record, "Stuck On You" and later that month he taped a TV program with Frank Sinatra, The Frank Sinatra Timex Special.
In July Vernon, Presley's father remarried.
Read more here about Dee and when she first met Vernon Presley Dee-Part 1

Vernon Presley's second wife was Davada "Dee" Stanley.
Billy, Rick and David The Stanley Brothers were more than stepbrothers to Elvis Presley.

At this time Presley began gathering more closely around him his friends, employees, and hangers on that would become known as the `Memphis Mafia` and would accompany him almost constantly until his death.
Presley's world would become increasingly insular, as he took the next step and became `The King` of rock & roll, and our hearts.
Go here to read more about this magical One Night with Elvis

Next Page:
Chapter 3 ` Elvis Presley becomes The King.
Download book version of this site `Elvis Presley Forever` with his life story in full
Do you have a contribution to make to this site?
Read the latest articles here:
Click below to see contributions from other visitors to this page...

DESTINY 1969 Elvis & Charles Manson TRUE STORY
NOTE: FULLY STORY can be accessed by link at bottom of story.


DESTINY 1969 Elvis Presley and Charles Manson TRUE STORY
Written by Jeff Schrembs — ALL ...
Tributes to Elvis Presley Not rated yet
There are huge number of tributes have been paid to Elvis Presley by famous peers. These are my favorite:

"In Elvis, you had the whole lot; it's all ...
Back to Top of page Elvis Presley biography

Terms of Use | Privacy Policy | Site Map | Elvis Presley Forever Links Directory | Contact Us | Subscribe to `Elvis Presley Forever!` newsletter | Download Site as a Book | Home page | Elvis Presley biography Blog | About Us
==============================================
SITE DISCLAIMER: The Elvis Presley biography information and resources on this site are provided for your entertainment only. No content on this site is intended to be a substitute for therapy or professional advice. While all attempts have been made to verify information provided in this Elvis Presley biography publication, neither the author nor the publisher assumes any responsibility for errors, omissions or contrary interpretation of the Elvis Presley biography or Elvis Presley picture subject matter herein. There is no guarantee of validity of accuracy of any Elvis Presley biography content. Any perceived slight of specific people or organizations is unintentional. This Elvis Presley biography website and its creators are not responsible for the content of any sites linked to.
The Elvis Presley biography contents are solely the opinion of the author and should not be considered as a historical fact or authority on the facts. The author and the Publisher of Elvis Presley biography assume no responsibility or liability and specifically disclaim any warranty, express or implied for any products or services mentioned, or any techniques or practices described. The purchaser or reader of this Elvis Presley biography publication assumes responsibility for the use of these Elvis Presley biography materials and articles and information. Neither the author nor the Elvis Presley biography Publisher assumes any responsibility or liability whatsoever on the behalf of any purchaser or reader of these materials.
Description of Elvis Presley biography site contents: This Elvis Presley biography site contains Elvis Presley biography information, history on Elvis Presley life story, Elvis Presley pictures and photos, Elvis Presley biography on early fame and becoming The King, Elvis Presley song lyrics, Elvis Presley movie resources, free e-books and articles listed for your convenient search in subjects of: Elvis Presley biography on early fame and becoming The King, Elvis Presley pictures and photos, Elvis Presley song lyrics, Elvis Presley movie resources, Elvis Presley childhood, Elvis Presley Band members biography, Elvis Presley girlfriends, Elvis Presley spiritual medium stories, Elvis Presley biography Elvis Presley Memphis mafia stories, Elvis Presley diary quotes, EElvis Presley biography on early fame and becoming The King, lvis Presley movie and music details in relation to the Elvis Presley autobiography and interviews of friends and family members for the Elvis Presley biography website written by a fan for his fans.
=================================================

Back to Top of page Elvis Presley biography



Description of site contents: This site contains Elvis Presley biography information, history on Elvis Presley biography life story, Elvis Presley biography pictures and photos, Elvis Presley biography The King song lyrics, Elvis Presley biography movie resources, free e-books and articles listed for your convenient search in subjects of: Elvis Presley biography pictures and photos, Elvis Presley The King song lyrics, Elvis Presley biography movie resources, Elvis Presley biography childhood, Elvis Presley biography Band members biography, Elvis Presley biography girlfriends, Elvis Presley biography spiritual medium stories, Elvis Presley biography Memphis mafia stories, Elvis Presley biography diary quotes, Elvis Presley biography movie and music details in relation to the Elvis Presley The King autobiography and interviews of friends and family members for the Elvis Presley biography website written by a fan for his fans. Elvis Presley biography on early fame and becoming The King.
Back to Top of page Elvis Presley biography on early fame and becoming The King