Elvis Presley Biography | Elvis Jumpsuits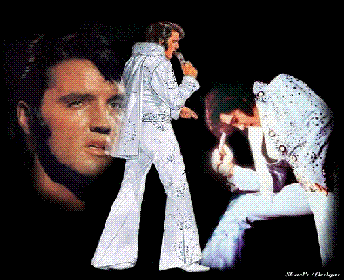 Elvis is known for his jumpsuits. In fact, his impersonators do their best to get the jumpsuits that Elvis was known to have worn.

In fact, two guys named Gene Doucette and Bill Belew still sell the jumpsuits that have been patterned from the Kings wardrobe!

Their items range from Elvis's casual clothing, capes, accessories and even belts. A lot of impersonators pay their respect to the legendary musician, actor and artist.

In fact, their store has been internationally acclaimed simply because of the popularity of their jumpsuits.

Here is a list of some designs:
1. Aztec
2. Benefit (2 Pieces)
3. Black (2 Pieces)
4. Emperor Leather (2 Pieces)
5. Tan Leather (2 Pieces)
6. Aloha Eagle
7. Amber Brown Flowers
8. American Eagle
9. Apache
10. Agua
11. Black Cisco White
12. Black Fireworks
13. Black Herringbone
14. Black Matador Suit
15. Black Phoenix
16. Black Pyramid
17. Black Sleek Tapestry
18. Black Spanish Flower Topaz
19. Black Spanish Flower Reds
20. Blue Bicentennial
21. Blue Flying Suit
22. Blue Herringbone Suit
23. Blue Rainbow
24. Burning Love
25. Caped Fringe
26. Chain Suit
27. Checkerboard White Pyramid
28. Chinese Dragon
29. Comet Adonis
30. Concha
31. Conquistador Blackwaydown
32. Diamond White Waydown
33. Flame
34. Fringe I
35. Fringe II
36. Gold Vine
37. Grass
38. Gypsy
39. Inca Gold Leaf Suit 2
40. Indian Feather
41. King of Spades
42. Lake Tahoe Fireworks
43. Leaf (2 Pieces)
44. Light Blue Phoenix
45. Light Blue (2 Pieces)
46. Lion
47. Memphis
48. Metal Eyes
49. Nail
50. Nashville
51. Now
52. Owl Blue Starburst
53. Peacock
54. Penguin
55. Porthole
56. Powderblu Bluenail
57. Rainfall
58. Red Flower Suit
59. Red Ladder
60. Red Phoenix
61. Saturn
62. Silver Phoenix
63. Sneak (2 Pieces)
64. Snowflake
65. Spectrum Suit
66. Sundial
67. Sunlight Raisedonrock
68. Swirl
69. Target
70. The Green Leaf
71. Thunderbird
72. Tiffany
73. Tigerman
74. Today Egyptian
75. Turquoise Lightblueflowers
76. V Neck 02
77. White Black Fringe
78. White Cisco Kid
79. White Fireworks
80. White Herringbone
81. White Ribs
82. White Sleek Suit
83. White Prehistoric Bird

Now just look at that. There are 83 designs of jumpsuits Elvis has been photographed wearing throughout his long career.

Not to mention the other jumpsuits that are sold in the Elvis Presley souvenir shops near Graceland.

He will definitely live on considering all the people wearing his clothes.


How to come up with an Elvis Outfit

Are you having problems on what to wear to a costume party? Why not try the Elvis outfit? For so many years now, the Elvis outfit has been one of the many favorites of costume party-goers.

From the eccentric style in costumes to his fashionable sunglasses, the Elvis outfit is definitely one hot costume to be used and reused for many years.

Most costume manufacturers these days have a variety of Elvis outfits ranging from true blue Elvis style complete with accessories and elegance to those look-alike costumes that will do for a night out or stag parties.

Why the Elvis Outfit?

Many people are wondering why Elvis outfits are considered as the star of most costume parties. Some say it is because of the popularity that Elvis once had or still has even though he's six feet under.

Others say Elvis's clothing style demonstrated a fashion that will never fade away.

During his time, Elvis was a fashionable icon. From the way he wore his hair to the way he dressed up has definitely been a distinctive style that nobody has been able to match or exceed.

This could be the reason why most people still want to impersonate Elvis for his peculiar but chic personality.

Moreover, most people contend that the life of the party is usually focused on the way people dress up. And since the Elvis outfit resembles or reflects a kind of enthusiasm or vibrancy, much like the way Elvis performed on stage or the way his music was composed, Elvis outfits are considered as colorful; optimistic items.

So to help you out in coming up with an Elvis outfit, here are some things you need to consider:

1. Wig

For an Elvis look, you can jazz up your Elvis outfit using a wig that resembles his hair. Find a wig that shows a neatly combed style, complete with gel for a sheer look. Don't forget to use those ever famous stick-on sideburns.

2. Clothes

You can't just wear any kind of clothing designed during the Elvis era. Always keep in mind that Elvis was known for his outrageous style, from the colors down to the style of pleats of his tops and bottoms.

So try to find clothes with those outrageously designed long sleeves, usually white, or a black jacket and finish it off with tight jeans.

3. Big costume rings

Elvis had lots of those so don't forget to wear them with your Elvis outfit.

And lastly, wear that Elvis spirit, alive and always in the mood for rockin and rollin.