Designed for The King
Elvis memorabilia brings in big bickies at auctions these days, with Elvis' favourite peacock jumpsuit recently going under the hammer for $300,000, according to a recent Associated Press report.
The online sale of the jumpsuit was anticipated to rake in a sum between $275,000 and $325,000, so it's rather fitting that the figure sits neatly between these two estimates. The most previously paid for one of his costumes was a comparatively paltry $105,250, and the item was the so-called aloha cape, as worn on one of his final television broadcasts.

However, the sale of Elvis' 1956 Lincoln Continental Mark II for $295,000 held the previous record for the highest price of an Elvis collectible.

Makes you wish you had a cool 300 grand spare to spend on "The King", doesn't it? The white peacock jumpsuit, in classic Elvis style, featured a plunging neckline and an exquisite hand-embroidered peacock design in blue and gold on the front, back and down the legs of the flared trousers. Designed by Los Angeles designer, Bill Belew, Elvis apparently paid $10,000 for the outfit.

In fact, it was Belew, and not exclusive fashion houses such as Lanvin and Chloe, who is largely credited with creating the iconic and extravagant rock n' roll designs that featured in Elvis' stage wardrobe from 1968-1977.

While other designers of his era concentrated on designer bags and designer shoes, Bill Belew created the trappings of a king!

Yet like contemporary fashion designer Stella McCartney, inextricably linked to the history of pop and rock music through her father, the former Beatle Paul McCartney, Bill Belew wasn't just the figure behind a famous name.

Belew also designed costumes for the New York City Ballet and the San Francisco Ballet, and the renowned divas Josephine Baker, Ella Fitzgerald, Brooke Shields and Gloria Estefan.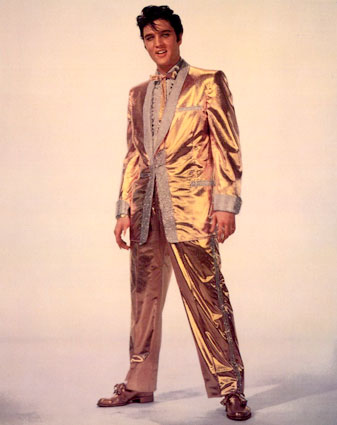 Download your free autobiography book of "Elvis Presley Forever"

Back to Top of Elvis Presley Designer Shoes page

Terms of Use | Privacy Policy | Site Map | Elvis Presley Forever Links Directory | Contact Us | Subscribe to "Elvis Presley Forever!" newsletter | Download Site as a Book | HOME PAGE | Elvis Presley biography Blog | About Us
=================================================
SITE DISCLAIMER: The Elvis Presley biography Elvis Presley song lyric music information and resources on this Elvis Presley biography site are provided for your entertainment only. No content on this site is intended to be a substitute for therapy or professional advice. While all attempts have been made to verify information provided in this Elvis Presley biography publication, neither the author nor the publisher assumes any responsibility for errors, omissions or contrary interpretation of the Elvis Presley biography or Elvis Presley picture subject matter herein. There is no guarantee of validity of accuracy of any Elvis Presley song lyric music content. Any perceived slight of specific people or organizations is unintentional. This Elvis Presley biography website and its creators are not responsible for the content of any sites linked to.
Description of Elvis Presley biography site contents: This site contains Elvis Presley biography information, Elvis Presley song lyric music, Elvis jumpsuit information and Designer Shoes for the king, Elvis Presley biography, Elvis Presley music, Elvis Presley song, Elvis Presley lyric, Elvis Presley biography, Elvis Presley movie resources, free e-books and articles listed for your convenient search in subjects of: Elvis Presley pictures and photos, Elvis Presley music song lyrics Designer Shoes & elvis jumpsuits facts, Elvis Presley biography, Elvis Presley movie and Elvis Presley song lyric music
=================================================

Back to Top of page Elvis Presley Designer Shoes