Elvis Presley Biography fan`s survey results:

Betty kuzmenko
From: Oman


1. How and when did you first hear about Elvis Presley?
: on the tv ed sulivan show

2. What was it that got you hooked on Elvis?
: his wonderful voice and sex appeal

3. If Elvis were alive, what would you like to say to him or ask him?
"My Message to Elvis": i would say how much i have loved him always his singing his looks i have always been in love with him.there will never be another like hime in my eyes

4. WHICH is your favourite Elvis Presley song or movie? And why is it your favourite?
: i have many
love me tender my way amazing grace in the ghetto burning love

5. Which is your favourite SUIT that Elvis wore on stage?
: white one with the cape

6. Who do you think Elvis loved most in his life, his greatest love?
: his music his wife his daughter

7. Where were you and what were you doing when you heard that Elvis had died?
: comming home from work in the car on the radio i could not bekieve it was true broke my heart

8. Why do you think Elvis still attracts new fans every year, even long after his death?
: the voice the look he is always will be the best

Have you been to Graceland?...If so, would you like to share your experence or feelings on this site?
: no but i will be going very soon

Elvis was a trend leader and constantly "transformed" himself in his career, like Madonna & music stars are famous for doing nowdays. Which are your favourite "Elvis eras" in his career?
: Las Vegas stage superstar

Do you have a personal Letter to Elvis or Poem about or for Elvis that you would like to share on this site? This may be included in our next book "Messages to Elvis". Add it here
:: elvis i have been such a fan of yours all my life when my parents passed away i had them play you gospel music during the whole funerals everyone new they arrived at the proper funeral home because you were singing it was heard outdoors i love you

Would you like to tell us a little bit more about yourself to share on your own Elvis Presley Fan page?
: i am 58 years old and very young for my age just turn on anything by elvis and i still goose bumps and i cant sit still and i can dance to anything he sings

Do you collect Elvis music or memorabilia?
: Music, Movies, Posters, Books, Ceramics, Figurines, Personal items, Souveneir items, other

How would you rate our Elvis Presley Biography site?
: Excellent

Do you have any suggestions on how we can improve this site for Elvis's fans?
: just having a fan club is wonderful


HELLO Betty

Thank you for your kind comments on our survey. Elvis is truly forever in our hearts; he has touched many world wide and continues to have an overwhelming effect on the younger generation. My son is 7 and is a true fan; he loves his movies and enjoys his music. I love your choice of favorite songs. His sex appeal, WOW, what can I say, he is sooooo gorgeous, he had everything!! He is totally the best` When my mother passed, Elvis was played at her funeral. Elvis`s music offers depth that comes from deep within which is felt by us all.


Betty here are the lyrics to your favorite songs
Love Me Tender
(words & music by Vera Matson — Elvis Presley)

Love me tender,
love me sweet,
never let me go.
You have made my life complete,
and I love you so.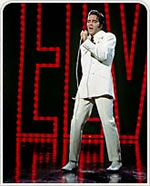 Love me tender,
love me true,
all my dreams fulfilled.
For my darlin' I love you,
and I always will.



Love me tender,
love me long,
take me to your heart.
For it's there that I belong,
and we'll never part.



Love me tender,
love me dear,
tell me you are mine.
I'll be yours through all the years,
till the end of time.



(When at last my dreams come true
Darling this I know
Happiness will follow you
Everywhere you go).


Lyrics for My Way
performed by Elvis Presley



(Anka — Francois — Revaux)



And now the end is near
So I face the final curtain
My friend, I'll say it clear
I'll state my case of which I'm certain



I've lived a life that's full
I've traveled each and every highway
And more, much more than this
I did it my way



Regrets, I've had a few
But then again, too few to mention
I did what I had to do
And saw it through without exception



I planned each charted course
Each careful step along the byway
Oh, and more, much more than this
I did it my way



Yes, there were times, I'm sure you know
When I bit off more than I could chew
But through it all when there was doubt
I ate it up and spit it out
I faced it all and I stood tall
And did it my way



I've loved, I've laughed and cried
I've had my fails, my share of losing
And now as tears subside
I find it all so amusing
To think I did all that
And may I say, not in a shy way
Oh, no, no not me
I did it my way



For what is a man, what has he got
If not himself, then he has not
To say the words he truly feels
And not the words he would reveal
The record shows I took the blows
And did it my way
The record shows I took the blows
And did it my way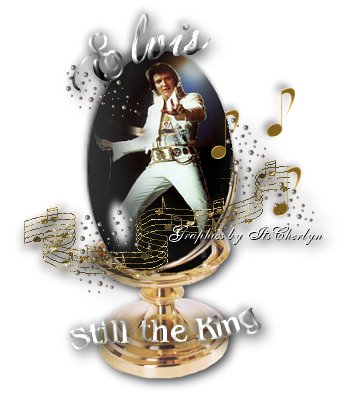 Lyrics for Amazing Grace
performed by Elvis Presley



(William J. Gaither, arr. Elvis Presley)



Amazing grace, oh how sweet the sound
That saved a wreck like me
I once was lost, though now I'm found
I was blind, but now I see
When we've been there ten thousand years
Bright shining as the sun
We've no less days to sing God's praise
Then when, when we first begun
Too many ages false and spent
I have already hung
This face and flock He saved us by
His endless grace will leave me whole
Amazing grace, oh how sweet the sound
To save a wreck like me



I once was lost, but now I'm found
I was blind, but now I see


In The Ghetto Lyrics
As the snow flies
On a cold and gray Chicago mornin'
A poor little baby child is born
In the ghetto
And his mama cries
'Cause if there's one thing that she don't need
It's another hungry mouth to feed
In the ghetto


People, don't you understand
The child needs a helping hand
Or he'll grow to be an angry young man some day
Take a look at you and me,
Are we too blind to see,
Do we simply turn our heads
And look the other way


Well the world turns
And a hungry little boy with a runny nose
Plays in the street as the cold wind blows
In the ghetto


And his hunger burns
So he starts to roam the streets at night
And he learns how to steal
And he learns how to fight
In the ghetto


Then one night in desperation
A young man breaks away
He buys a gun, steals a car,
Tries to run, but he don't get far
And his mama cries


As a crowd gathers 'round an angry young man
Face down in the street with a gun in his hand
In the ghetto


As her young man dies,
On a cold and grey Chicago mornin',
Another little baby child is born
In the ghetto
And his mama cries


In the ghetto
In the ghetto


Lyrics for Burning Love
performed by Elvis Presley



(Linde)



Lord Almighty,
I feel my temperature rising
Higher higher
It's burning through to my soul



Girl, girl, girl
You gonna set me on fire
My brain is flaming
I don't know which way to go



Your kisses lift me higher
Like the sweet song of a choir
You light my morning sky
With burning love



Ooh, ooh, ooh,
I feel my temperature rising
Help me, I'm flaming
I must be a hundred and nine
Burning, burning, burning
And nothing can cool me
I just might turn into smoke
But I feel fine



Cause your kisses lift me higher
Like a sweet song of a choir
And you light my morning sky
With burning love



It's coming closer
The flames are reaching my body
Please won't you help me
I feel like I'm slipping away
It's hard to breath
And my chest is a-heaving



Lord Almighty,
I'm burning a hole where I lay
Cause your kisses lift me higher
Like the sweet song of a choir
You light my morning sky
With burning love
With burning love
Ah, ah, burning love
I'm just a hunk, a hunk of burning love
Just a hunk, a hunk of burning love
Just a hunk, a hunk of burning love
Just a hunk, a hunk of burning love
Just a hunk, a hunk of burning love
Just a hunk, a hunk of burning love