Elvis Presley — Fan Survey Results
This page is dedicated to providing the site visitor with quality Elvis Presley biography fan`s survey results information from the site`s Elvis Presley Quiz, pictures and articles for your entertainment. The contents of this Elvis Presley biography site is written by a fan for his fans. If you recently submitted your fan survey to the site, it will soon appear on its own Elvis Presley website page like this.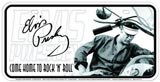 Elvis Presley Biography fan`s survey results:

Marawan Kamel
From: Egypt


1. How and when did you first hear about Elvis Presley?
: When I was 5years old , my father used to play his tapes in the car and at home!!!!!!!!

2. What was it that got you hooked on Elvis?
: His voice ,his talent, his looks and his style. Elvis will always be the king of music no matter what!!!!!!!!

3. If Elvis were alive, what would you like to say to him or ask him?
"My Message to Elvis": sure!!!!!! I would have told him the following:
1.u are the greatest of all times !!!!!
2.To stop using Drugs!
3.to get back in Shape!
4.To sing as much songs as possible.
5.To record every concert!!!
6.To forget cella !!!!!!!! because she was not warth it!!
7.To make sure no one abuses his name or his trade mark when he is dead! as his wife did!!!
8.To ask him about his music and talent!! and how he would have loved to be rememberd when he is gone.
9. What he thinks of Tom Jones, Engelbert humperdink and frank sinatera!!! 10. what does he think of the new technology and advancements!!in music.


4. WHICH is your favourite Elvis Presley song or movie? And why is it your favourite?
: Stranger in a crawd , he was in great shape and voice.

5. Which is your favourite SUIT that Elvis wore on stage?
: al

6. Who do you think Elvis loved most in his life, his greatest love?
: his music

7. Where were you and what were you doing when you heard that Elvis had died?
: young

8. Why do you think Elvis still attracts new fans every year, even long after his death?
: simply , because there will never be another Elvis

Have you been to Graceland?...If so, would you like to share your experence or feelings on this site?
: no

Elvis was a trend leader and constantly "transformed" himself in his career, like Madonna & music stars are famous for doing nowdays. Which are your favourite "Elvis eras" in his career?
: Las Vegas stage superstar

Do you have a personal Letter to Elvis or Poem about or for Elvis that you would like to share on this site?
This may be included in our next book "Messages to Elvis". Add it here
:: U are The greatest!!!!!!!!!!!!!!!!!!!!!!!!!!!!!!! ur music will always live in our hearts for genarations to generations!!!!!!!!!!!!!!!!!!!

Would you like to tell us a little bit more about yourself to share on your own Elvis Presley Fan page?:
Do you collect Elvis music or memorabilia?
: Music, Movies, Posters, Books

How would you rate our Elvis Presley Biography site?
: Excellent

Do you have any suggestions on how we can improve this site for Elvis's fans?:

Hi Marawan

Thank you for taking part in our survey. Elvis will always hold the title of being the King Of Rock And Roll, like you said; there will never be another Elvis. Our children learn about him not only through our devotion but history, he is a true legend. Elvis Presley has had a huge impact on the world, whether it is through his concerts, music, generosity, or his gentle southern nature, he is a man who deserves this permanent crown. We his loyal fans will honor him always. Marawan it was lovely hearing from you.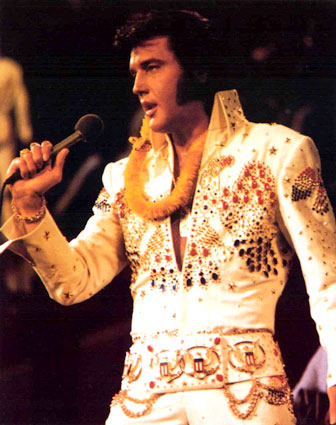 Elvis Presley — Enduring legacy


Now, more than 25 years after his death, Presley remains a foremost pop icon of the 20th century. His image, especially his trademark forelock, is instantly recognizable. He is still the gold standard against which modern notions of fame are measured. At least one modern recording artist, Elvis Costello, borrowed Presley's first name to help his fledgling career.

But all too often Elvis Presley's kitsch appeal and the industry which has grown up around it, chronicling his dietary and chemical predilections and the trappings of his celebrity, have tended to obscure the vibrant and vital music he made as a young man, the vocally-influential recordings of his later career, and the lasting influence both he and his music had on American popular culture.

Connected with this is a continuing urban myth that Elvis is still alive. "Elvis sightings", in which Presley is reported to have been located (frequently in mundane and out-of-the-way places, such as a supermarket in South Dakota), are common events, and one of the staples of supermarket tabloids.

However, interest in his music returned during the buildup to the 2002 World Cup, when Nike used a Junkie XL remixed version of his "A Little Less Conversation" (credited as Elvis Vs JXL) as the background music to a series of TV commercials featuring international soccer stars. The remix hit Number 1 in over 20 countries, including the United States, the United Kingdom and Australia (it was also his first top 10 hit in the UK for nearly 22 years, and his first #1 there for nearly 25 years).

At about the same time, a compilation of Presley's US Number 1 hits, ELV1S: 30 #1 Hits, was being prepared for release. "A Little Less Conversation" (remix version) was quickly added as the album's 31st track just before its release in October 2002. Nearly 50 years after Presley made his first hit record and 25 years after his death, ELV1S: 30 #1 Hits reached number 1 on the charts in the US, the UK, Australia and many other countries. A re-release from the album, "Burning Love" (not a remix) also made the Australian top 40 later in the year.

His renewed fame continued with another remix in 2003 (this time by Paul Oakenfold) of "Rubberneckin'", which made the top 3 in Australia and top 5 in the UK. This was followed by another album called 2nd to None, a collection of his B-sides, including the "Rubberneckin'" remix.

In mid-2004, to commemorate the 50th anniversary of Presley's first professional recording, "That's All Right", the recording in question was re-released, and made the charts around the world, including top 3 in the UK and top 40 in Australia.

In early 2005 in the United Kingdom, RCA began to re-issue his 18 UK #1 singles as CD-singles in the order they were originally released, one of them a week. The first of these re-issues, "All Shook Up", was chart ineligble due to the fact that it was sold together with a collectors' box which holds all 18 singles in it (it actually sold enough to be #2). The second of these re-releases, "Jailhouse Rock", was the number one in the first chart of 2005, and "One Night/I Got Stung", the third re-release in the series, replaced it on the January 16 chart (and thus becoming the 1000th UK number one).

However, the fourth re-release, "A Fool Such As I/I Need Your Love Tonight" was beaten the next week by Ciara's "Goodies" at the end of the respective sales week, leaving him at #2 (even though he had been leading throughout most of that week). He was beaten due to the fact that these re-releases were "limited edition", and not as much could be sold to keep it in the lead on that weekend. Due to this, RCA is now pressing more copies of each re-release single.

These re-releases are breaking many chart records there, making Elvis the only artist so far to spend at least 1000 weeks in the top 40 (coincidently, he broke this record on the week he held the 1000th UK #1 song), but they have also made him break the record for the biggest drops from the #1 position. A further 14 Elvis singles are due for re-release.


Back to Top of page


Terms of Use | Privacy Policy | Site Map | Elvis Presley Forever Links Directory | Contact Us | Subscribe to `Elvis Presley Forever!` newsletter | Download Site as a Book | Home page | Elvis Presley biography Blog | About Us
=================================================
SITE DISCLAIMER: The Elvis Presley biography information and resources on this site are provided for your entertainment only. No content on this site is intended to be a substitute for therapy or professional advice. While all attempts have been made to verify information provided in this Elvis Presley biography publication, neither the author nor the publisher assumes any responsibility for errors, omissions or contrary interpretation of the Elvis Presley biography or Elvis Presley picture subject matter herein. There is no guarantee of validity of accuracy of any Elvis Presley biography content. Any perceived slight of specific people or organizations is unintentional. This Elvis Presley biography website and its creators are not responsible for the content of any sites linked to.
The Elvis Presley biography contents are solely the opinion of the author and should not be considered as a historical fact or authority on the facts. The author and the Publisher of Elvis Presley biography assume no responsibility or liability and specifically disclaim any warranty, express or implied for any products or services mentioned, or any techniques or practices described. The purchaser or reader of this Elvis Presley biography publication assumes responsibility for the use of these Elvis Presley biography materials and articles and information. Neither the author nor the Elvis Presley biography Publisher assumes any responsibility or liability whatsoever on the behalf of any purchaser or reader of these materials.
Description of site contents: This site contains Elvis Presley biography information, history on Elvis Presley life story, Elvis Presley pictures and photos, Elvis Presley song lyrics, Elvis Presley movie resources, free e-books and articles listed for your convenient search in subjects of: Elvis Presley pictures and photos, Elvis Presley song lyrics, Elvis Presley movie resources, Elvis Presley childhood, Elvis Presley Band members biography, Elvis Presley girlfriends, Elvis Presley spiritual medium stories, Elvis Presley Memphis mafia stories, Elvis Presley diary quotes, Elvis Presley movie and music details in relation to the Elvis Presley autobiography and interviews of friends and family members for the Elvis Presley biography website written by a fan for his fans.
=================================================

Back to Top of page Elvis Presley biography