Elvis Presley — Fan Survey Results
This page is dedicated to providing the site visitor with quality Elvis Presley biography fan`s survey results information from the site`s Elvis Presley Quiz, pictures and articles for your entertainment. The contents of this Elvis Presley site is written by a fan for his fans. If you recently submitted your fan survey to the site, it will soon appear on its own page like this.


Elvis Presley Biography fan`s survey results:

Phyllis
From: United States


1. How and when did you first hear about Elvis Presley?
: On the Frank Sinatra Special Wlecoming Elvis home from the army.

2. What was it that got you hooked on Elvis?
: He was well mannered, very very handsome,and sung any song with soul.

3. If Elvis were alive, what would you like to say to him or ask him?
: I would say to him, "thank you for keeping it real". You are truly an awesome man who has given so many people a direction and purpose in life.

4. WHICH is your favourite Elvis Presley song or movie?
: If I Can Dream

5. WHY is it your favourite?
: The title says it all. Peace, love and understanding. No differences will be made, no mateter what creed or color. We all are one. Nough said.

6. Who do you think Elvis loved most in his life, his greatest love?
: First of all his parents and his family. The love of God.

7. Where were you and what were you doing when you heard that Elvis had died?
: I was driving home from work in the rain. It seems Christ was crying too.

8. Why do you think Elvis still attracts new fans every year, even long after his death?
: He was a compelling performer. No matter that he made some bad films. The person he became after fame. The love and compassion he gave to others. That God given voice. He is still giving.

9. Do you collect Elvis music or memorabilia?
: Yes, Music, Movies, Books, Figurines, Souveneir items, other

11. How would you rate our Elvis Presley Biography site?
: Excellent

12. Do you have any suggestions on how we can improve this site for Elvis's fans?
: Provide links to true Elvis fans and friends. The step-family of Elvis's are a sad, sad and bitter disapointment.


Hello Phyllis

Thank you for your very interesting comments on our survey. Elvis blessed us all with the true depth of his soul and in return we can only honor and respect this wonderful man, it hardly seems enough. Elvis` voice is like a Golden sunray, he was just totally amazing!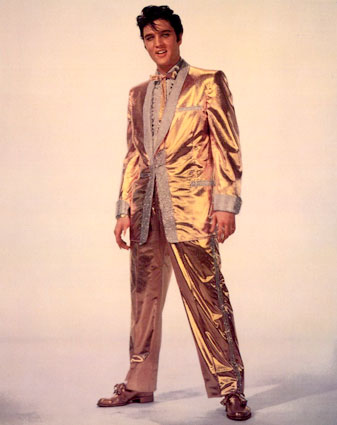 Elvis Presley — Musical milestones


During his lifetime, Elvis Presley:

Recorded 104 singles that hit the Top 40 of the Billboard pop chart.

Had 18 number 1 Billboard hits, including four singles in 1956 that occupied the top of the charts for a cumulative total of 25 weeks.
The total (18) is surpassed only by The Beatles, who had 20 number 1 hits.
Had 38 Top 10 Billboard hits. This total is currently unchallenged; the closest competitor, Madonna, has 35. (The Beatles had 34 Top 10 hits during their career.)

Until the record was broken by Boyz II Men's "End of the Road" in November 1992, Elvis Presley's double-side "Don't Be Cruel/Hound Dog" was the undisputed champion of singles in terms of weeks spent at number one. The record spent 11 weeks at the top starting on August 18, 1956.

These are other records set by Presley's recordings:

From March 1956 to November 1959, every week there was at least one Elvis song on the singles chart.
From 1956 to 1962 Elvis set the record with 24 consecutive top 5 hit singles (singles listed with B-side songs and original U.S.A. release dates):
"Heartbreak Hotel" / "I Was the One" — released 1/27/56
"I Want You, I Need You, I Love You" / "My Baby Left Me" — 5/4/56
"Don't Be Cruel" / "Hound Dog" — 7/13/56
"Love Me Tender" / "Any Way You Want Me" — 9/28/56
"Too Much" / "Playing For Keeps" — 1/4/57
"All Shook Up" / "That's When Your Heartaches Begin" — 3/22/57
"Teddy Bear" / "Loving You" — 6/11/57
"Jailhouse Rock" / "Treat Me Nice" — 9/24/57
"Don't" / "I Beg Of You" — 1/7/58

Elvis also charted 9 consecutive #1 singles:

"Wear My Ring Around Your Neck" / "Doncha' Think It's Time" — 4/1/58 (the first single to debut on the chart in the top 10)
"Hard Headed Woman" / "Don't Ask Me Why" — 6/10/58
"One Night" / "I Got Stung" — 10/21/58
"A Fool Such As I" / "I Need Your Love Tonight" — 3/10/59
"A Big Hunk O' Love" / "My Wish Came True" — 6/23/59
"Stuck On You" / "Fame And Fortune" — 3/23/60
"It's Now Or Never" / "A Mess Of Blues" — 7/5/60
"Are You Lonesome Tonight" / "I Gotta Know" — 11/1/60
"Surrender" / "Lonely Man" — 2/7/61
"I Feel So Bad" / "Wild In The Country" — 5/2/61
"His Latest Flame" / "Little Sister" — 8/8/61
"Can't Help Falling In Love" / "Rock-A-Hula Baby" — 11/22/61
"Good Luck Charm" / "Anything That's Part Of You" — 2/27/62
"She's Not You" / "Just Tell Her Jim Said Hello" — 7/14/62
"Return To Sender" / "Where Do You Come From" — 10/2/62

All the above 24 singles also sold over 1 million copies each as well. That is another record yet to be broken.

Since 1962, the closest anyone has come to matching this was Madonna in the late 1980s and early 1990s, with 19 consecutive top 5 hits.

Also, on the official United Kingdom Top 40 chart, "One Night With You" reached number one in the week of Sunday, January 16, 2005, 27 years after Presley's death.


Back to Top of page


Terms of Use | Privacy Policy | Site Map | Elvis Presley Forever Links Directory | Contact Us | Subscribe to `Elvis Presley Forever!` newsletter | Download Site as a Book | Elvis Presley biography Home page | Elvis Presley biography Blog | About Us
=================================================
SITE DISCLAIMER: The Elvis Presley biography information and resources on this site are provided for your entertainment only. No content on this site is intended to be a substitute for therapy or professional advice. While all attempts have been made to verify information provided in this Elvis Presley biography publication, neither the author nor the publisher assumes any responsibility for errors, omissions or contrary interpretation of the Elvis Presley biography or Elvis Presley picture subject matter herein. There is no guarantee of validity of accuracy of any Elvis Presley biography content. Any perceived slight of specific people or organizations is unintentional. This Elvis Presley biography website and its creators are not responsible for the content of any sites linked to.
The Elvis Presley biography contents are solely the opinion of the author and should not be considered as a historical fact or authority on the facts. The author and the Publisher of Elvis Presley biography assume no responsibility or liability and specifically disclaim any warranty, express or implied for any products or services mentioned, or any techniques or practices described. The purchaser or reader of this Elvis Presley biography publication assumes responsibility for the use of these Elvis Presley biography materials and articles and information. Neither the author nor the Elvis Presley biography Publisher assumes any responsibility or liability whatsoever on the behalf of any purchaser or reader of these materials.
Description of site contents: This site contains Elvis Presley biography information, history on Elvis Presley life story, Elvis Presley pictures and photos, Elvis Presley song lyrics, Elvis Presley movie resources, free e-books and articles listed for your convenient search in subjects of: Elvis Presley pictures and photos, Elvis Presley song lyrics, Elvis Presley movie resources, Elvis Presley childhood, Elvis Presley Band members biography, Elvis Presley girlfriends, Elvis Presley spiritual medium stories, Elvis Presley Memphis mafia stories, Elvis Presley diary quotes, Elvis Presley movie and music details in relation to the Elvis Presley autobiography and interviews of friends and family members for the Elvis Presley biography website written by a fan for his fans.
=================================================

Back to Top of page Elvis Presley biography