Elvis Presley Gospel Influences on Elvis Presley article page
of the Elvis Presley biography story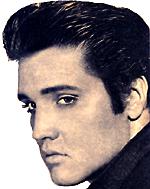 This Elvis Presley biography Gospel Influences on Elvis Presley page is dedicated to providing quality Elvis Presley biography information, pictures and articles for your entertainment. The contents of this Elvis Presley site is written by a fan for his fans about Gospel Influences on Elvis Presley.




"I ain't no saint, but I've tried never to do anything that would hurt my family or offend God...I figure all any kid needs is hope and the feeling he or she belongs. If I could do or say anything that would give some kid that feeling, I would believe I had contributed something to the world." -Elvis

Elvis Presley was born and raised in the Bible Belt of America and his family attended the First Assembly of God Church whose Pentecostal services always included singing. "When Elvis was just a little fellow, he would slide off my lap, run down the aisle, and scramble up to the platform of the church. He would stand looking up at the choir and try to sing with them" said his mother Gladys.

1946, Elvis asked his parents for a bicycle, but Gladys being very protective of Elvis was afraid he might fall off and hurt himself, and persuaded Elvis to get a guitar instead. Over the next year, his father Vernon's brother, Johnny Smith and Assembly of Good Pastor Frank Smith, gives him basic guitar lessons. Before long he was listening to the radio, tuning into a variety of music as he tried to pick out melodies.

In 1954 Elvis went to the Mississippi Alabama State Fair. It was there, at the age of ten that Elvis stood on a chair in front of hundreds of people, unaccompanied by music and sang "Old Shep" a sentimental ballad about a boy and his dog. Elvis was awarded Second Prize. It was the very first time in his life he ever got anything for just singing. Elvis learned a simple but important lesson that day. His voice was powerful and singing could make his fantasies come true.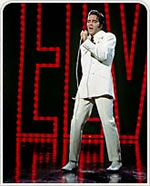 In his later teens, Elvis could be found at every gospel concert appearing in Memphis. It was during this time that he was befriended by such gospel greats as J. D. Sumner and the Blackwood Brothers, as well as many of the Black gospel groups. He was often invited backstage and would join them in song. Because of this influence developed a unique style that incorporated the styles of all of these groups. His personal favorite artist at this time was Jake Hess, who still is active in gospel music through the Gaither Reunion concerts. Elvis won the senior talent contest at Humes High School just prior to his 1953 graduation.

The day after his High School graduation he took a job at Parker Machinists Shop. By June was working at the Precision Tool Company and then drove truck for the Crown Electric Co. He spent much time on Beale Street and frequented the all-night white and black, "Gospel Sing" that were held downtown. On the way out to jobs in a Ford pickup, Elvis would drive by the Memphis Recording Service. One Saturday Elvis stopped by the recording services with his old guitar and records his mother a birthday present. Elvis cut 2 songs "My Happiness" and the second "That's When Your Heartaches Begin."

Later the tape was taken to the boss, Sam C. Phillips √ owner of Sun Records and Elvis was invited back to record some professional records. Rock and roll history is made when Elvis Presley, Scotty Moore and Bill Black perform bluesman Arthur "Big Boy" Cruddup's "That's All Right" in romping, up-tempo style.

The next day, bluegrass pioneer Bill Monroe's "Blue Moon of Kentucky" is given a similarly playful treatment. Two days later Memphis disc jockey Dewey Phillips played "That's All Right" on his Red Hot and Blue show on radio station WHBQ.

Elvis made his first professional stage appearance at Overton Park Shell in Memphis. Elvis was very nervous as he walked out to perform "Good Rockin' Tonight". He felt his voice wasn't doing it alone so he threw his body into the music, his feet began to shuffle, the knees bent and shook, his hips swiveled and pumped in time to the music.

"The first time that I appeared on stage, it scared me to death. I really didn't know what all the yelling was about. I didn't realize that my body was moving. It's a natural thing to me. So to the manager backstage I said ▒What'd I do? What'd I do?' And he said "What ever it is, go back and do it again'." -From a 1972 taped interview used in MGM's documentary "Elvis on Tour".

Elvis was blessed with a natural talent to sing just about anything, but he also needed to feel as comfortable with his selected material, as he was around the guys that worked for him. Elvis had a tenor voice and a full 3 octave range. He loved to sing the bass parts, but he could hit the high notes so clearly and dramatically that it came to be recognized as one of the greatest aspects of his style.

Elvis required a personal "hold" in everything that he did; which might come from the style of the music, but most of the time it was more likely to come from something in the lyric, which would allow him to express himself.

Older fans remember watching him perform his gospel rendition of "Peace In The Valley" on the Ed Sullivan Show. This performance proved to many skeptical parents and morality critics alike that he was not just a "hip-shaking rock and roller." It demonstrated that his knowledge and delivery of gospel music was exceptional, and was based on childhood and early teen years of attendance and singing with his mother at church and tent revivals.

He knew and could sing from memory a large number of gospel and hymnal songs. Elvis once said "I know practically every religious song that's been written".

Mostly, Elvis took pleasure in listening to gospel. Elvis strongly believed that there was nothing as influential or inspirational than the good gospel music. When traveling he would carry around a case of a hundred or so albums≈most of them were gospel music.

Listening to his chosen gospel music was a means for Elvis to get in touch with his roots; he often used this music for giving praise to the Lord when feeling humble and thankful, which he regularly did. The Bible says to sing praise and lift your voice to Him.

Elvis wasn't one to sing a song unless he felt it; he had to feel it in his heart, for that's where he sang from and that's what made him a famous star. No matter what he sang it had to fit him perfectly, and it is obvious when going through songs he sang over the years, and hearing the personal connections that were evident in his life. When Elvis sang "How Great Thou Art" he felt it in his soul, with such feeling and meaning he had the power in him to move mountains.

A Marty Robbins's hit, "You Gave Me A Mountain" expressed his need to persist, remain strong, continue with strength after his divorce, and the sadness of being without his daughter. "American Trilogy," one Elvis put together, as a tribute to the dignity of his country and its tradition. Only Elvis could have pulled it off with such perfection.

"There is something magical about watching a man who has lost himself find his way back home...He sang with the kind of power people no longer expect." — John Landau Review of Elvis, (1968 TV Special).

There is no doubt his favorite music was Gospel. He warmed up for recording sessions with gospel songs, and when not on tour was often at his home piano knocking out his favorite hymns. Elvis quite often liked to listen to Mahalia Jackson, who was to Elvis, the Queen of Gospel.

Elvis Presley only scored one big gospel hit on the pop charts during his amazing career — 1965's "Crying In The Chapel," a re-release of a performance from 1960, coming at a time when he desperately needed it, but gospel music both "white" and "black," was an important component of both his singing style and his worldview.

Throughout his illustrious career it was Gospel, and Gospel music alone, that earned him the coveted Grammy awards — 1967 winner 'Best Sacred Performance' for his "How Great Thou Art" album.

In the 1970's Elvis started to include more Gospel songs in his concerts and had the "Imperials" and the "Sweet Inspirations" as well as "JD Sumner & the Stamps" as his Gospel backing group singers. Elvis also occasionally read passages from the Bible on stage during his concerts and insisted that audiences were respectfully silent while "Sweet, Sweet Spirit" was sung by his backup group.

The gospel song "Life" was recorded by Elvis in 1970. In the year 2000 it was also included on the 3 CD set, "Elvis — Peace in the Valley- the Complete Gospel Recordings". 'Lead Me, Guide Me' is one of Elvis' most touching performances from 1971 and when he sings, "I am lost if you take your hand from me" he seems so totally sincere it is truly moving.

In 1972 the gospel album "He Touched Me" is released to favorable reviews, and wins Elvis his second Grammy Award. Elvis's live recording of "How Great Thou Art" in 1975 receives the Grammy for Best Inspirational Performance.

His gospel music is much loved by Elvis fans: "My favourite gospel song is "Peace in the valley". I just love how he sings it, as a matter of fact I told my daughter I want all his Gospel songs played at my funeral" says Teresa Ledford, an American Elvis fan.

Elvis read his Bible and prayed regularly and was very knowledgeable about spiritual matters. In the mid 1960's he also held Bible studies in his Bel Air home where he lived while making his movies. He never liked being called "The King". When an adoring fan called him The King one day, Elvis replied to her "No Honey, there is only one King and that is Jesus Christ".

June 26 1977 Elvis Presley gave his final performance in Madison Square Arena at Indianapolis, Indiana. It was in some of these latter performances where one could see the power he felt and emitted while singing gospel, spiritual and inspirational songs mixed in with his "rock" numbers.

" ▒Til we meet you again, may God bless you. Adios."
- Elvis said in 1977 at the end of a concert during his last tour.

August 6 Elvis sang with friends for the last time. The songs were mostly hymns such as "How Great Thou Art" at his girlfriend Ginger Alden's house. On August 16th 1977 "The King" Elvis Presley was found dead at his home "Graceland".

This is what Elvis is believed to have prayed a few hours before he died. "Dear Lord, please show me a way. I am tired and confused and I need your help." Elvis prayed this prayer in the presence of his stepbrother, Rick Stanley. Elvis also said to Rick a few moments later "Rick, we should all begin to live for Christ."

Most of Elvis' philanthropic endeavors received no publicity at all. Throughout his adult life, for friends, for family, and for total strangers, he quietly paid hospital bills, bought homes, supported families, paid off debts, and much more.

Elvis' legacy of generosity continues through the work of the Elvis Presley Charitable Foundation, which is the philanthropic branch of Elvis Presley Enterprises, Inc. and the creator of the Elvis Presley Endowed Scholarship Fund at the University of Memphis. The tradition of giving also continues through the work of the Elvis fan clubs worldwide, most of which are heavily involved in charitable endeavors in Elvis' memory.

Each year he gave $1,000 or more to each of 50 Memphis area charities and made many other charitable donations around the country like the Hawaii concert proceeds.

Elvis was a Christian and many believe that Elvis knew he was called by God to be an evangelist. In the last year of his life he sang more Gospel songs on stage, and was even known to read from the Bible on stage.

President Jimmy Carter said in his official statement following Elvis' death "Elvis Presley's death deprives our country of a part of itself. He was unique, irreplaceable. More than twenty years ago, he burst upon the scene with an impact that was unprecedented and will probably never be equaled. His music and his personality, fusing the styles of white country and black rhythm and blues, permanently changed the face of American popular culture. His following was immense. And he was a symbol to people the world over of the vitality, rebelliousness and good humor of this country."



"Everyone, including myself was touched by Elvis' spirit, I was, and always will be a fan". Bryan Ferry

James Brown said upon the news of Elvis' death, "I wasn't just a fan, I was his brother. He said I was good and I said he was good; we never argued about that. Elvis was a hard worker, dedicated, and God loved him. Last time I saw him was at Graceland. We sang ▒Old Blind Barnabus' together, a gospel song. I love him and hope to see him in heaven. There'll never be another like that soul brother."



Elvis Presley Gospel Albums & CD's include:How Great Thou art Elvis — Peace In The Valley (The Complete Gospel Recordings) His Hand In Mine, Follow That Dream Records You'll Never Walk Alone — Elvis Presley CDHe Touched Me — CDElvis Presley — Ultimate Gospel CDAmazing Grace: His Greatest Sacred SongsEaster Special — FTD CDElvis : Gospel Favourites — CDTake My Hand — 20 Gospel Favourites CDElvis Gospel 1957-72: Known Only To Him



Elvis Presley Forever
This Elvis Presley biography site is dedicated to providing the site visitor with quality Elvis Presley biography information, pictures and articles for your entertainment. Everything you ever wanted to know about Elvis's life, loves and music. An Elvis Presley biography site by a fan for his fans. Get your free .pdf Elvis biography book download here. elvis-presley-forever.com





Download the free autobiography book version of "Elvis Presley Forever" with his life story in full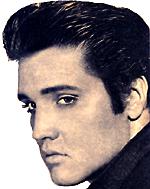 This autobiography page is dedicated to providing quality Elvis Presley biography information, pictures and articles for your entertainment. The contents of this Elvis Presley biography site is written by a fan for his fans.

What Elvis Presley biography information are you looking for?
Try a local search of our site for your answers

Back to Top of page

Terms of Use | Privacy Policy | Site Map | Elvis Presley Forever Links Directory | Contact Us | Subscribe to "Elvis Presley Forever!" newsletter | Download Site as a Book | HOME PAGE | Elvis Presley biography Blog | About Us
=================================================
SITE DISCLAIMER: The Elvis Presley biography information and resources on this Elvis Presley biography site are provided for your entertainment only. No content on this site is intended to be a substitute for therapy or professional advice. While all attempts have been made to verify information provided in this Elvis Presley biography publication, neither the author nor the publisher assumes any responsibility for errors, omissions or contrary interpretation of the Elvis Presley biography or Elvis Presley picture subject matter herein. There is no guarantee of validity of accuracy of any Elvis Presley biography content. Any perceived slight of specific people or organizations is unintentional. This Elvis Presley biography website and its creators are not responsible for the content of any sites linked to.
The Elvis Presley biography contents are solely the opinion of the author and should not be considered as a historical fact or authority on the facts. The author and the Publisher of Elvis Presley biography assume no responsibility or liability and specifically disclaim any warranty, express or implied for any products or services mentioned, or any techniques or practices described. The purchaser or reader of this Elvis Presley biography publication assumes responsibility for the use of these Elvis Presley biography materials and articles and information. Neither the Elvis Presley biography, author nor the Elvis Presley biography Publisher assumes any responsibility or liability whatsoever on the behalf of any purchaser or reader of these Elvis Presley biography, materials.
Description of Elvis Presley biography site contents: This site contains Elvis Presley biography information, Elvis Presley biography, history on Elvis Presley life story, Elvis Presley pictures and photos, Elvis Presley song lyrics, Elvis Presley movie resources, free e-books and articles listed for your convenient search in subjects of: Elvis Presley pictures and photos, Elvis Presley song lyrics, Elvis Presley movie resources, Elvis Presley childhood, Elvis Presley Band members biography, Elvis Presley girlfriends, Elvis Presley biography, Elvis Presley spiritual medium stories, Elvis Presley Memphis mafia stories, Elvis Presley biography, Elvis Presley diary quotes, Elvis Presley movie and music details in relation to the Elvis Presley autobiography and interviews of friends and family members for the Elvis Presley biography website written by a fan for his fans.
=================================================

Back to Top of page Elvis Presley biography