This Elvis Presley biography article about Bo Diddley Rock and Roll History page is dedicated to providing the site visitor with quality Elvis Presley biography information, Bo Diddley life story, music downloads and movie videos as well as pictures and articles about rock and roll famous musicians and movie stars for your entertainment. The contents of this Elvis Presley site is written by a fan for his fans. Bo Diddley Rock and Roll History
Bo Diddley

Bo Diddley (born December 30, 1928), "The Originator", is an influential American blues singer, songwriter, and guitarist.

He was born Ellas Bates and later took the name Ellas McDaniel, after his adoptive mother, Gussie McDaniel.

He adopted the stage name Bo Diddley, which is probably a southern black slang phrase meaning "nothing at all", as in "he ain't bo diddley". Another source says it was his nickname as a Golden Gloves boxer.

He was given a guitar by his sister as a youth, but also took violin lessons. He was inspired to become a blues artist by seeing John Lee Hooker.

He is best known for the "Bo Diddley beat", a rhumba-based beat also influenced by what is known as "hambone", a style used by street performers who play out the beat by slapping and patting their arms, legs, chest, and cheeks while chanting rhymes.

The beat has been used by many other artists, notable Johnny Otis on "Willie and the Hand Jive", which is more about hambone than it is a direct copy of Bo Diddley, and Buddy Holly's "Not Fade Away" as well as more obscure numbers such as "Callin' All Cows" by the Blues Rockers.

Rhythm is so important in Bo Diddley's music that harmony is often reduced to a bare minimum.

His songs (for example "Hey Bo Diddley" and "Who Do You Love?") often have no chord changes; that is, they are not written in a musical key, and the musicians play and sing in the same chord throughout the piece.

His own songs have been frequently covered. The Animals recorded "The Story of Bo Diddley", The Yardbirds covered "I'm a Man", and both the Woolies and George Thorogood had hits with "Who Do You Love", also a concert favorite of The Doors.

His "Road Runner", one of his two Top 40 hits, was also frequently covered. ("Say Man" was the other Top 40 hit.)

Bo Diddley used a variety of rhythms, however, from straight back beat to pop ballad style, frequently with maracas by Jerome Green.

He was also an influential guitar player, with many special effects and other innovations in tone and attack.

He also plays the violin and cello; the latter is featured on his mournful instrumental "The Clock Strikes Twelve".

Although Bo Diddley was a breakthrough crossover artist with white audiences, appearing on the Alan Freed concerts, for instance, he rarely tailored his compositions to teenaged concerns.

The most notable exception is probably his album Bo Diddley's a Surfer, which featured "Surfer's Love Call", but while Bo may never have hung ten in his baggies to catch the big wave, he was definitely an influence on surf guitar players.

His lyrics are often witty and humorous adaptations of folk music themes.

His first hit, "Bo Diddley" was based on the lullaby "Mockingbird". Likewise, "Hey Bo Diddley" is based on the folk song, "Frog went a-courtin'".

The rap-style boasting of "Who do you love?", a word play on hoodoo, used many striking lyrics from the African-American tradition of toasts and boasts. His two versions of "Say Man" have been connected with rap, but actually feature the insults known as the Dirty Dozens: "You look like you been in a hatchet fight and everybody had a hatchet except you."

In addition to the many songs identified with him, he wrote the pioneering pop tune "Love is Strange" for Mickey and Sylvia under a pseudonym to increase his royalties.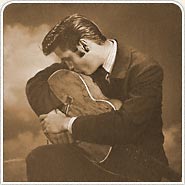 Description of site directory and contents dedicated to Elvis Presley biography information, history on Elvis Presley life story, Elvis Presley pictures and photos, Elvis Presley song lyrics, Elvis Presley biography movie resources, free e-books and articles listed for your convenient search in subjects of: Elvis Presley pictures and photos, Elvis Presley song lyrics, Elvis Presley biography movie resources, Elvis Presley childhood, Elvis Presley Band members biography, This site takes the legwork out of finding great Elvis Presley biography information and resources for: Elvis Presley girlfriends, Elvis Presley spiritual medium stories, Elvis Presley Memphis mafia stories, Elvis Presley autobiography diary quotes. We have compiled great links to Elvis Presley biography pictures, movie and music details in relation to the Elvis Presley autobiography and interviews of friends and family members for the Elvis Presley biography website written by a fan for his fans.
Elvis Presley biography site links

Elvis Presley
Elvis Presley pictures
Elvis Presley lyrics
Elvis Presley songs
Elvis Presley autobiography
Elvis Presley photo
Elvis Presley Blue Christmas
Elvis Presley Christmas
Elvis Presley movies
Elvis Presley water
Elvis Presley music
Elvis Presley Christmas song
Elvis Presley collectible
Elvis Presley death
Elvis Presley enterprise
Elvis Presley song lyrics
Elvis Presley discography
Elvis Presley Graceland
Elvis Presley albums
Elvis Presley dvd
Elvis Presley hound dog
Elvis Presley mp3
Elvis Presley memorabilia
Elvis Presley history
Elvis Presley birthday
Elvis Presley poster