Elvis Presley First Rock &Roll; Record article page
of the Elvis Presley biography story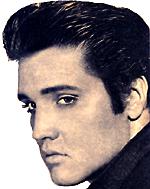 This First Rock & Roll Record page is dedicated to providing quality Elvis Presley biography information, pictures and articles for your entertainment. The contents of this Elvis Presley biography site is written by a fan for his fans about First Rock & RollRecord .
First rock and roll record

From Wikipedia, the free encyclopedia.

There are many candidates for the title of the first Rock and Roll record.

Numerous recordings mark the development of rock and roll as a separate musical form. Some songs are cited as having important lyrical content, others are seen as offering important melodic, harmonic or rhythmic influence. These songs include not only hits from the 1950s when the music emerged on the national and international scene, but also earlier precursors.

Wild cards from the 1920s and 1930s that seemed then to have come from nowhere but now clearly foreshadow rock and roll:



1 "My Daddy Rocks Me (with One Good Steady Roll)" by Trixie Smith (1922). Although it was played with a backbeat and was one of the first "around the clock" lyrics, this slow minor-key blues was by no means rock and roll in the modern sense. On the other hand, the title certainly underscores the original meaning attached to those two words (both of four letters), rock and roll.

2 "Tiger Rag" by the Washboard Rhythm Kings, (1931) virtually out of control performance with screeching vocals, a strange tiger roar, and rocking washboard. This recording is standing in for many performances by spasm bands, jug bands, and skiffle groups that have the same wild, informal feel that early rock and roll had.

Tunes from the 1930s and 1940s that were early indicators of an important change in the music world:

1 "Roll 'Em Pete" by Pete Johnson and Joe Turner (1938) driving boogie woogie and a masterful collation of blues verses

2 "Flying Home" by Lionel Hampton and his orchestra (1939), tenor sax solo by Illinois Jacquet, recreated and refined live by Arnett Cobb, the model for rock and roll solos ever since, emotional, honking, long, not just an instrumental break but the keystone of the song. (The Benny Goodman Sextet had a popular hit with a subdued "jazz chamber music" version of the same song featuring guitarist Charlie Christian.)

3 "Rock Me" by the Lucky Millinder Orchestra with Sister Rosetta Tharpe vocals and guitar, a gospel song done like a city blues

4 "I Wonder" by Cecil Gant (1944), an early black ballad performance that became widely popular, the first of the black tenors.

5 "Straighten Up and Fly Right" by Nat King Cole (1946), very light on the rocking, but a popular hit with lyrics from African American folk tale, like Bo Diddley, but without the beat

6 "Let the Good Times Roll" by Louis Jordan (1946)

7 "Oakie Boogie"; by Jack Guthrie (1947)

8 "Drinkin' Wine Spo-Dee-O-Dee"; by Stick McGhee and his Buddies (1949)

9 "Ragg Mopp" by Johnny Lee Wills and Deacon Anderson (1949), strange little novelty tune, the lyrics are simply the title spelled out or yelled out, re-released in 1954 by the Ames Brothers.

The hits from the 1950s typically are seen with an early performance much in the rhythm and blues style and a later cover performance more in the rock and roll vein. Often, the first performance was by a black artist and the second by a white artist. These white covers, while at the time sometimes disdained as exploitive and derivative, were a necessary part of the transition of the music.


Nor were they all pale imitations, but sometimes earnest remakes by sympathetic performers, and more than a few were recognized as superior recordings to the originals.

1 "Good Rocking Tonight" (1949) by Roy Brown and Wynonie Harris, both black artists; Brown's original version is jump blues while Harris's version is definitely more modern rock and roll. Later heartily covered by Elvis Presley and less heartily by Pat Boone.

2 "The Fat Man" by Fats Domino (1949), featuring Fats on wah-wah mouth trumpet, the first of his 35 Top 40 hits.

3 "Rock Me to Sleep" written by Benny Carter and Paul Vandervoort II (1950), recorded by Helen Humes backed by the Marshall Royal Orchestra.

4 "Rocket 88" by Jackie Brenston and his Delta Cats (actually Ike Turner and the Kings of Rhythm) (1951), and Bill Haley and the Saddlemen (1951)

5 "Crazy Man, Crazy", (1953) Bill Haley and his Comets, first rock and roll record on Billboard magazine chart. Not a cover, but an original. Haley said he heard the phrase at high-school dances his band was playing.

6 "Rock Around the Clock", (1954) by Bill Haley and his Comets, first number 1 rock and roll record

7 "Shake, Rattle and Roll", (1954) by Big Joe Turner, Bill Haley and his Comets, and Elvis Presley. Haley's version was the first international hit rock and roll record, actually predating the success of "Rock Around the Clock" by several months, though it was recorded later.

8 "That's All Right (Mama)", (1954) by Elvis Presley; this cover of Arthur Crudup's tune was Elvis' first single, and is possibly the song most often cited (albeit inaccurately) as the first rock and roll record.

9 "Sh-boom" (1954) by the Chords and the Crewcuts, in this case, the latter was a pale imitation. The song is considered a pioneer of the doo-wop variant.

10 "Maybellene", (1955) by Chuck Berry

In 2004, debate was sparked between fans of Elvis who claimed "That's All Right Mama" was the first rock and roll song, with those who feel the proper claimant should be Bill Haley's "Rock Around the Clock"--both songs celebrating their 50th anniversaries that year. Rolling Stone Magazine took the controversial step of unilaterally declaring Elvis' song the first rock and roll recording, attracting criticism from many quarters.


What Elvis Presley biography information are you looking for?
Try a local search of our site for your answers

Back to Top of page

Terms of Use | Privacy Policy | Site Map | Elvis Presley Forever Links Directory | Contact Us | Subscribe to "Elvis Presley Forever!" newsletter | Download Site as a Book | HOME PAGE | Elvis Presley biography Blog | About Us
=================================================
SITE DISCLAIMER: The Elvis Presley biography information and resources on this Elvis Presley biography site are provided for your entertainment only. No content on this site is intended to be a substitute for therapy or professional advice. While all attempts have been made to verify information provided in this Elvis Presley biography publication, neither the author nor the publisher assumes any responsibility for errors, omissions or contrary interpretation of the Elvis Presley biography or Elvis Presley picture subject matter herein. There is no guarantee of validity of accuracy of any Elvis Presley biography content. Any perceived slight of specific people or organizations is unintentional. This Elvis Presley biography website and its creators are not responsible for the content of any sites linked to.
The Elvis Presley biography contents are solely the opinion of the author and should not be considered as a historical fact or authority on the facts. The author and the Publisher of Elvis Presley biography assume no responsibility or liability and specifically disclaim any warranty, express or implied for any products or services mentioned, or any techniques or practices described. The purchaser or reader of this Elvis Presley biography publication assumes responsibility for the use of these Elvis Presley biography materials and articles and information. Neither the Elvis Presley biography, author nor the Elvis Presley biography Publisher assumes any responsibility or liability whatsoever on the behalf of any purchaser or reader of these Elvis Presley biography, materials.
Description of Elvis Presley biography site contents: This site contains Elvis Presley biography information, Elvis Presley biography, history on Elvis Presley life story, Elvis Presley pictures and photos, Elvis Presley song lyrics, Elvis Presley movie resources, free e-books and articles listed for your convenient search in subjects of: Elvis Presley pictures and photos, Elvis Presley song lyrics, Elvis Presley movie resources, Elvis Presley childhood, Elvis Presley Band members biography, Elvis Presley girlfriends, Elvis Presley biography, Elvis Presley spiritual medium stories, Elvis Presley Memphis mafia stories, Elvis Presley biography, Elvis Presley diary quotes, Elvis Presley movie and music details in relation to the Elvis Presley autobiography and interviews of friends and family members for the Elvis Presley biography website written by a fan for his fans.
=================================================

Back to Top of page Elvis Presley biography