Elvis Life Presleys article page
of the Elvis Presley biography story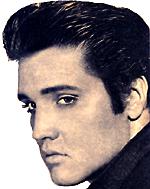 This Elvis life page is dedicated to providing quality Elvis Presley biography information, pictures and articles for your entertainment. The contents of this Elvis Presley biography site is written by a fan for his fans about Elvis life.
Download the free autobiograpy book version of "Elvis Presley Forever" with his life story in full
CONTENTS:
1. Childhood & Family background


5. Girlfriends & the Loves of His Life


6. Memphis Mafia history & facts
7. The King's Spirit lives forever


9. Elvis Presley Music biography


10. Elvis Presley Movie biography


11. Elvis Presley picture gallery


12. Elvis Presley website Links Directory


13. Elvis Presley famous quotes




Subscribe to "Elvis Presley Forever!" newsletter


Download the free autobiograpy book version of "Elvis Presley Forever" with his life story in full
"Before Elvis there was nothing."
John Lennon


Elvis has more Platinum records than any other artist (55) (The Beatles have 37; Barbra Streisand has 30)


Elvis has more Gold records than any other artist (97) (Barbra Streisand has 51; The Beatles have 42)


No wonder they call him The King.


Elvis Aaron Presley (January 8, 1935 √ August 16, 1977), also known as The King of Rock and Roll, or as just simply The King, was an American singer who had an immeasurable effect on world culture. He started his career under the name The Hillbilly Cat and was soon nicknamed Elvis the Pelvis because of his sexually suggestive performance style.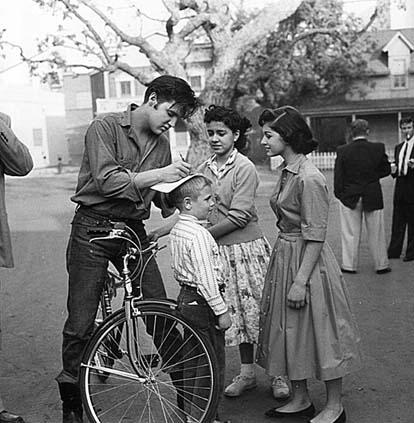 Birth & Childhood

Presley was born in a one-room house in Tupelo, Mississippi, to Vernon Elvis Presley and Gladys Love Smith Presley. He was raised both in Tupelo and later in Memphis, Tennessee, where his family moved when he was 13. He had a twin brother (Jesse Garon Presley) who died at birth. The young Elvis took up guitar at 11 and, after high school, worked at Precision Tool Company and then drove a truck for the Crown Electric Company.

Scottish author Allan Morrison claims that Elvis was of Scottish descent. In an as-yet-unpublished book, Morrison claims to have found that his ancestors lived in Lonmay, Aberdeenshire in the 1700s. According to Morrison, records show that Andrew Presley married Elspeth Leg in Lonmay in 1713. Their son, also called Andrew, went to the English colonies in 1745.


Music
Sun Records

In the summer of 1953 he paid $4 to record the first of two double-sided demo acetates at Sun Studios. The demo consisted of "My Happiness" and "That's When Your Heartaches Begin," popular ballads of the time. While Presley claimed to have recorded the demo as a birthday present for his mother, this is probably untrue, since Gladys Presley's birthday was in April and he recorded the acetate in July. Sun Records founder Sam Phillips and assistant Marion Keisker heard the discs and, recognizing Presley's nascent talent, called him in June 1954 to fill in for a missing ballad singer.

Although the session did not prove fruitful, Sam put Elvis together with local musicians Scotty Moore and Bill Black to see what might develop. During a rehearsal break on July 5, 1954, Elvis started fooling around with a song called "That's All Right" and Sam hit the record button, thinking Elvis may have found his niche. The resulting single, backed with Elvis' hopped-up version of the country song "Blue Moon Of Kentucky", was a huge local hit in Memphis after WHBQ aired it two days later, and regular touring started to expand his fame beyond Tennessee.

Elvis published five singles while under contract with Sun, all credited to Elvis Presley:

∙ "That's All Right" / "Blue Moon Of Kentucky" — Sun 209, released on July 19, 1954
∙ "Good Rockin' Tonight" / "I Don't Care if the Sun Don't Shine" — Sun 210, released on September 25, 1954
∙ "Milkcow Blues Boogie" / "You're A Heartbreaker" — Sun 215, released on December 28, 1954
∙ "Baby Let's Play House" / "I'm Left, You're Right, She's Gone" — Sun 217, released April 10, 1955
∙ "Mystery Train" / "I Forgot To Remember To Forget" — Sun 223, released on August 6, 1955
Most of these were energetic covers of rhythm and blues or country and western hits. The labels state: "Elvis Presley, Scotty & Bill". Shortest of these ten: 1.55", the longest is: 2.38".


These singles garnered Elvis increasing attention both for his music and for the rioting girls that were becoming a staple of his live performances. The last of the Sun singles, "I Forgot To Remember To Forget" b/w "Mystery Train", went to #1 on the Country music Singles chart. During this period Elvis toured incessantly throughout the south and southwest, also appearing 50 times on the regional show Louisiana Hayride (his first appearance was on March 3, 1955). Hayride founder and producer Horace Logan had shrewdly signed Elvis to weekly appearances after noting the audience reaction to the then-unknown singer.

It was during Elvis' last appearance on the Hayride that Logan announced, "Elvis has left the building", desperate to quell the screaming teenagers trying to reach Elvis as he exited the stage. The phrase has been popularized and is commonly used in joking reference to many, often unimportant, events being over as if they were as popular as an Elvis concert.

On August 18, 1955 his parents signed a contract with Colonel Parker, thereby ending the relationship with Sun Studio.


RCA

Elvis signed with RCA Records on November 21, 1955. On January 27, 1956 the single "Heartbreak Hotel" / "I Was the One" was released. It was the sixth single of his career. Unlike the previous singles, this one did chart, reaching #1 in April 1956.

Over the next twenty-one years, until his death in 1977, Elvis had 146 Hot 100 hits, 112 top 40 hits, 72 top 20 hits and 40 top 10 hits; all of these are the most anyone has yet achieved. "Don't Be Cruel" and "Hound Dog" topped the pop, black and country charts in 1956. A string of hit records followed as the public's desire for his product seemed insatiable.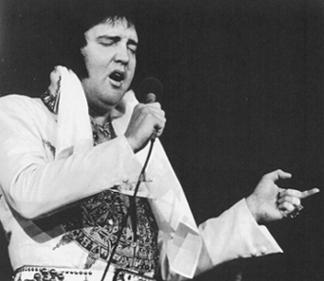 Comeback

The 1960s saw the quality of Presley's recorded output drop, although he was still capable of creating records equal to his best and did so on the infrequent occasions where he was presented with decent material at his movie recording sessions. With this drop-off, and in the face of the social upheaval of the 1960s and the British Invasion spearheaded by The Beatles, Presley's star faded slightly before a triumphant TV comeback special on NBC (aired on December 3, 1968) that saw him return to his rock and roll roots. His 1969 return to live performances, first in Las Vegas and then across the country, was noted for the constant stream of sold-out shows, with many setting attendance records in the venues where he performed.

His most successful concert was the Elvis Aloha Concert in Hawaii, which was broadcast worldwide via satellite in January 1973. It was a milestone for Presley's career and his biggest audience to date.


Gospel music

Presley was deeply religious, raised in the Pentecostal faith. He recorded several gospel albums. His three Grammy awards are all for gospel music. In his later years, his live stage performances almost always included a rendition of "How Great Thou Art."


Film & Television


Elvis on TV

On January 28, 1956 Presley made his national television debut by appearing on The Dorsey Brothers Stage Show, beginning his transition to teen idol. Now recording for RCA, and under the management of (honorary) Colonel Tom Parker, Elvis entered the Billboard Hot 100 chart for the first time on February 22 with "Heartbreak Hotel" and on April 21 that year the same song hit number one.

His June 5, 1956 introduction of his next single, "Hound Dog", on The Milton Berle Show, scandalized the audience with his suggestive hip movements. After a string of other TV appearances, he made his first appearance on the top-rated Ed Sullivan Show on September 9, earning the show a record 52√60 million viewers (82.6% of viewership that night). Presley had dyed his sandy blond hair jet black by the time of his second Sullivan performance on October 28 of the same year. On his third and final Sullivan appearance (January 6, 1957) Sullivan bowed to pressure from "moralists" and ordered Presley to be filmed only from the waist up due to his customary suggestive hip movements.


Motion pictures

In late 1955, Presley made his earliest known film appearance in a documentary entitled The Pied Piper of Cleveland, a look at the career of disk jockey Bill Randle. The film, which reportedly included performance footage of Elvis as well as Bill Haley and His Comets and other acts, was shown in its entirety only once (in Cleveland) and was never released commercially. The film is currently considered "misplaced" and some Presley researchers maintain it never existed, although there is ample evidence to suggest it did.

Beginning with Love Me Tender (opened on November 15, 1956), Presley starred in 31 motion pictures, having signed to multiple long-term contracts on the advice of his manager. These were usually musicals based around Presley performances, and marked the beginning of his transition from rebellious rock and roller to all-round family entertainer. Elvis was praised by all his directors, including the highly respected Michael Curtiz, as unfailingly polite and extremely hardworking.

The movies Jailhouse Rock (1957), King Creole (1958), and Flaming Star (1960) are widely regarded as his best among film critics. Among fans, Blue Hawaii (1961) and Viva Las Vegas (1964) are highly praised.

Between 1956 and 1969, Presley starred in 31 films. For details, see the List of Elvis Presley films.


Download the free autobiograpy book version of "Elvis Presley Forever" with his life story in full
What Elvis Presley biography information are you looking for?
Try a local search of our site for your answers

Back to Top of page

Terms of Use | Privacy Policy | Site Map | Elvis Presley Forever Links Directory | Contact Us | Subscribe to "Elvis Presley Forever!" newsletter | Download Site as a Book | HOME PAGE | Elvis Presley biography Blog | About Us
=================================================
SITE DISCLAIMER: The Elvis Presley biography information and resources on this Elvis Presley biography site are provided for your entertainment only. No content on this site is intended to be a substitute for therapy or professional advice. While all attempts have been made to verify information provided in this Elvis Presley biography publication, neither the author nor the publisher assumes any responsibility for errors, omissions or contrary interpretation of the Elvis Presley biography or Elvis Presley picture subject matter herein. There is no guarantee of validity of accuracy of any Elvis Presley biography content. Any perceived slight of specific people or organizations is unintentional. This Elvis Presley biography website and its creators are not responsible for the content of any sites linked to.
The Elvis Presley biography contents are solely the opinion of the author and should not be considered as a historical fact or authority on the facts. The author and the Publisher of Elvis Presley biography assume no responsibility or liability and specifically disclaim any warranty, express or implied for any products or services mentioned, or any techniques or practices described. The purchaser or reader of this Elvis Presley biography publication assumes responsibility for the use of these Elvis Presley biography materials and articles and information. Neither the Elvis Presley biography, author nor the Elvis Presley biography Publisher assumes any responsibility or liability whatsoever on the behalf of any purchaser or reader of these Elvis Presley biography, materials.
Description of Elvis Presley biography site contents: This site contains Elvis Presley biography information, Elvis Presley biography, Elvis life history on Elvis Presley life story, Elvis life Elvis Presley pictures and photos, Elvis Presley song lyrics, Elvis life Elvis Presley movie resources, free e-books and articles listed for your convenient search in subjects of: Elvis Presley pictures and photos, Elvis life Elvis Presley song lyrics, Elvis Presley movie resources Elvis life, Elvis Presley childhood, Elvis Presley Band members biography Elvis life, Elvis Presley girlfriends, Elvis Presley biography Elvis life, Elvis Presley spiritual medium stories, Elvis Presley Memphis mafia stories, Elvis Presley biography, Elvis Presley diary quotes Elvis life, Elvis Presley movie and music details in relation to the Elvis Presley autobiography and interviews of friends and family members for the Elvis Presley biography website written by a fan for his fans.
=================================================

Back to Top of page Elvis Presley biography