Elvis Presley Elvis Graceland article page
of the Elvis Presley biography story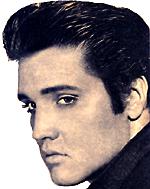 This Elvis Graceland page is dedicated to providing quality Elvis Presley biography information, pictures and articles for your entertainment. The contents of this Elvis Presley biography site is written by a fan for his fans about Elvis Graceland.
MARCH 1957


Elvis buys Graceland Mansion for himself, his parents, and his paternal grandmother to live in.


1957
January 8


Elvis Presley passes the pre-induction exam for the Army.


Leiber & Stoller are summoned to New York by Elvis's Brill Building music publisher to write songs for the movie 'Jailhouse Rock.' The title song soon reaches #1.

In early 1957 Presley became the target of criticism by teachers, clergymen, and even other entertainers who his style was to suggestive.


He was nicknamed "Elvis the Pelvis" by one writer.


On January 6, he made the last of his three appearances on the Ed Sullivan Show and was shown only from the waist up.


Ed Sullivan had once said he would never have the controversial singer on his top-rated show, but that was before the week that Elvis' appearance on Steve Allen had surpassed Sullivan's ratings.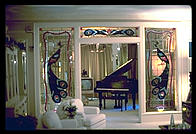 Sullivan paid Elvis $50,000 to make three appearances on his show, which was, at the time, more money than any performer had ever been paid to appear on a network variety program.


When Elvis made his third Sullivan appearance in January of 1957, Ed Sullivan surprised Elvis by telling him on camera that his show had never had a better experience with a name act, and said "I wanted to say to Elvis and the country that this is a real decent, fine boy."


It was on this very same Sullivan appearance that Elvis was shown on camera from the waist up only, one of early television history's most memorable moments.


23rd February Elvis first recorded the classic hit "let Me Be Your Teddy Bear". It went to number #1 on the charts, as did "All Shook Up" and "Jailhouse Rock".


In February "All Shook Up" headed for eighteen weeks at the top number one on the charts.


In March Presley purchased Graceland, a former church and converted it into a twenty three room mansion.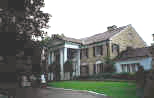 Approximately 675,000 people visit Graceland yearly



Presley was the first rock star to crossover into films with consistent commercial success.


Loving You, his second film, was released in July 1957 and "Teddy Bear" from it's soundtrack went to #1 on the pop, country, and R&B; charts, as did "All Shook Up" and "Jailhouse Rock," the title song from his next movie.


December 19,


That December he received his draft notice, while home at Graceland for the Christmas holidays, but was given a 30 day deferment to complete the filming of King Creole.


"Before Elvis there was nothing."
John Lennon


FAMOUS QUOTES BY ELVIS


"Some people tap their feet, some people snap their fingers, and some people sway back and forth. I just sorta do ▒em all together, I guess."


-Elvis in 1956, talking about his way of moving on stage.


"I ain't no saint, but I've tried never to do anything that would hurt my family or offend God...I figure all any kid needs is hope and the feeling he or she belongs. If I could do or say anything that would give some kid that feeling, I would believe I had contributed something to the world."


-Elvis commenting to a reporter, 1950's.


"Don't criticize what you don't understand, son. You never walked in that man's shoes."


-Elvis often used this adaptation of a well-known quotation.


"When I was a child, ladies and gentlemen, I was a dreamer. I read comic books, and I was the hero of the comic book. I saw movies, and I was the hero in the movie. So every dream I ever dreamed has come true a hundred times...I learned very early in life that: ▒Without a song, the day would never end; without a song, a man ain't got a friend; without a song, the road would never bend — without a song.' So I keep singing a song. Goodnight. Thank you."


-From his acceptance speech for the 1970 Ten Outstanding Young Men of the Nation Award. Given at a ceremony on January 16, 1971. (Elvis quotes from copyrighted material with lines from the song "Without a Song".)


"We do two shows a night for five weeks. A lotta times we'll go upstairs and sing until daylight — gospel songs. We grew up with it...It more or less puts your mind at ease. It does mine."


What Elvis Presley biography information are you looking for?
Try a local search of our site for your answers

Back to Top of page

Terms of Use | Privacy Policy | Site Map | Elvis Presley Forever Links Directory | Contact Us | Subscribe to "Elvis Presley Forever!" newsletter | Download Site as a Book | HOME PAGE | Elvis Presley biography Blog | About Us
=================================================
SITE DISCLAIMER: The Elvis Presley biography information and resources on this Elvis Presley biography site are provided for your entertainment only. No content on this site is intended to be a substitute for therapy or professional advice. While all attempts have been made to verify information provided in this Elvis Presley biography publication, neither the author nor the publisher assumes any responsibility for errors, omissions or contrary interpretation of the Elvis Presley biography or Elvis Presley picture subject matter herein. There is no guarantee of validity of accuracy of any Elvis Presley biography content. Any perceived slight of specific people or organizations is unintentional. This Elvis Presley biography website and its creators are not responsible for the content of any sites linked to.
The Elvis Presley biography contents are solely the opinion of the author and should not be considered as a historical fact or authority on the facts. The author and the Publisher of Elvis Presley biography assume no responsibility or liability and specifically disclaim any warranty, express or implied for any products or services mentioned, or any techniques or practices described. The purchaser or reader of this Elvis Presley biography publication assumes responsibility for the use of these Elvis Presley biography materials and articles and information. Neither the Elvis Presley biography, author nor the Elvis Presley biography Publisher assumes any responsibility or liability whatsoever on the behalf of any purchaser or reader of these Elvis Presley biography, materials.
Description of Elvis Presley biography site contents: This site contains Elvis Presley biography information, Elvis Presley biography, Elvis Graceland history on Elvis Presley life story, Elvis Presley pictures and photos, Elvis Presley song lyrics, Elvis Graceland Elvis Presley movie resources, Elvis Graceland free e-books and articles listed for your convenient search in subjects of: Elvis Presley pictures and photos Elvis Graceland, Elvis Presley song lyrics, Elvis Presley movie resources, Elvis Graceland Elvis Presley childhood, Elvis Presley Band members biography, Elvis Presley girlfriends, Elvis Presley biography, Elvis Graceland Elvis Presley spiritual medium stories, Elvis Graceland Elvis Presley Memphis mafia stories, Elvis Presley biography, Elvis Presley diary quotes, Elvis Graceland Elvis Presley movie and music details in relation to the Elvis Presley autobiography and interviews of friends and family members for the Elvis Presley biography website written by a fan for his fans.
=================================================

Back to Top of page Elvis Presley biography