Elvis Presley Birthday Elvis article page
of the Elvis Presley biography story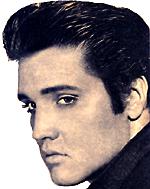 This Birthday Elvis page is dedicated to providing quality Elvis Presley biography information, pictures and articles for your entertainment. The contents of this Elvis Presley biography site is written by a fan for his fans about Birthday Elvis.
JANUARY 8, 1935 — 4:35 AM


In Tupelo, Mississippi, Gladys Presley gives birth to identical twin sons. The first, Jesse Garon, is stillborn. The second, Elvis Aron, is born alive and healthy.


For the rest of his life story, check out the rest of the pages of this site.

1. Childhood & Family background


4. Girlfriends & the Loves of His Life


5. The King's Spirit lives forever


6. Memphis Mafia history & facts


8. Elvis Presley picture gallery


9. Elvis Presley Music biography


10. Elvis Presley Movie biography


11. Elvis Presley Product catalogue (download site as a book)


12. Elvis Presley website Links Directory


13. Elvis Presley famous quotes


"Before Elvis there was nothing."
John Lennon


JANUARY 8, 1935 — 4:35 AM Elvis Presley birthday,
In Tupelo, Mississippi, Gladys Presley gives birth to identical twin sons. The first, Jesse Garon, is stillborn. The second, Elvis Aaron, is born alive and healthy.


Elvis Presley birthday,


Elvis Aaron Presley (January 8, 1935 √ August 16, 1977), also known as The King of Rock and Roll, or as just simply The King, was an American singer who had an immeasurable effect on world culture. He started his career under the name The Hillbilly Cat and was soon nicknamed Elvis the Pelvis because of his sexually suggestive performance style.

Birth & Childhood

Presley was born in a one-room house in Tupelo, Mississippi, to Vernon Elvis Presley and Gladys Love Smith Presley. He was raised both in Tupelo and later in Memphis, Tennessee, where his family moved when he was 13. He had a twin brother (Jesse Garon Presley) who died at birth. The young Elvis took up guitar at 11 and, after high school, worked at Precision Tool Company and then drove a truck for the Crown Electric Company.

Scottish author Allan Morrison claims that Elvis was of Scottish descent. In an as-yet-unpublished book, Morrison claims to have found that his ancestors lived in Lonmay, Aberdeenshire in the 1700s. According to Morrison, records show that Andrew Presley married Elspeth Leg in Lonmay in 1713. Their son, also called Andrew, went to the English colonies in 1745.


During the first year of Elvis's life a ruthless tornado hit Elvis's home town of Tupelo and was described as being one of the worst in history, taking many lives and sweeping whole houses into it's black vortex of destruction.


Gladys and Elvis would reminisce about that tornado and both be considering themselves so lucky to have escaped with their lives.


Elvis would also remember his twin brother, Jesse Garon. Elvis would alter ponder a sense of incompleteness at having lost a part of himself he could never know.


From Elvis's first moment on earth, until his Mother's death some twenty three years later, Gladys never stopped worrying about her son's every waking moment, and when she discovered her boy was a somnambulist (sleepwalker), she then also worried about his sleeping moments.


Her love for her son was a fawning, all consuming emotion that never stopped growing.


At age three, Vernon was sent to prison for forgery. It seems that Vernon, Travis Smith, and Luther Gable changed the amount of a check from Orville Bean, Vernon's boss, from $3 to $8 and cashed it at a local bank. Vernon pled guilty and was sentenced to three years at Parchment Farms Penitentiary.


Vernon's boss, Mr. Bass calls in a note that Vernon signed to borrow money to build the house. Gladys is forced to move in with Vernon's parents. Vernon would only serve eight months. Afterward Vernon's employment was spotty and the family lived just above the poverty line.

"Don't criticize what you don't understand, son. You never walked in that man's shoes."
-Elvis often used this adaptation of a well-known quotation.

The Presley's attended the First Assembly of God Church whose Pentecostal services always included singing.


The bond between mother, father and son was always strong. Vernon recalls, "When we went swimming, Elvis would have fits if he saw me dive. He was as afraid something would happen to me." The crisis of being separated from his father was noted when Elvis was about five years old.

"Round where we lived in East Tupelo seems there was a fire almost every night and we'd all go running to see what we could do to help the people," Vernon tells.


Although flames were visible and crackling Vernon was still dashing in and out the house carrying furniture.


Gladys takes up the story. "Elvis was sure his daddy was going to get hurt that he screamed and cried. I had to hold him to keep him from running in after Vernon.


So I said, right sharp, ▒Elvis, you just stop that. He ▒s all right. Your daddy knows what he's doing.' He quieted right down."


Having once accepted a belief in his father's judgment Elvis has held to it. There is no indication that he went through ever the usual normal period of adolescent rebellion against parental authority.


For what may have been substituted as rebellion was channeled against the family's economic situation which often made Elvis' life difficult in teenagehood.


"When I was a child, ladies and gentlemen, I was a dreamer. I read comic books, and I was the hero of the comic book. I saw movies, and I was the hero in the movie. So every dream I ever dreamed has come true a hundred times...I learned very early in life that: ▒Without a song, the day would never end; without a song, a man ain't got a friend; without a song, the road would never bend — without a song.' So I keep singing a song. Goodnight. Thank you."

-From his acceptance speech for the 1970 Ten Outstanding Young Men of the Nation Award. Given at a ceremony on January 16, 1971. (Elvis quotes from copyrighted material with lines from the song "Without a Song".)


What Elvis Presley biography information are you looking for?
Try a local search of our site for your answers

Back to Top of page

Terms of Use | Privacy Policy | Site Map | Elvis Presley Forever Links Directory | Contact Us | Subscribe to "Elvis Presley Forever!" newsletter | Download Site as a Book | HOME PAGE | Elvis Presley biography Blog | About Us
=================================================
SITE DISCLAIMER: The Elvis Presley biography information and resources on this Elvis Presley biography site are provided for your entertainment only. No content on this site is intended to be a substitute for therapy or professional advice. While all attempts have been made to verify information provided in this Elvis Presley biography publication, neither the author nor the publisher assumes any responsibility for errors, omissions or contrary interpretation of the Elvis Presley biography or Elvis Presley picture subject matter herein. There is no guarantee of validity of accuracy of any Elvis Presley biography content. Any perceived slight of specific people or organizations is unintentional. This Elvis Presley biography website and its creators are not responsible for the content of any sites linked to.
The Elvis Presley biography contents are solely the opinion of the author and should not be considered as a historical fact or authority on the facts. The author and the Publisher of Elvis Presley biography assume no responsibility or liability and specifically disclaim any warranty, express or implied for any products or services mentioned, or any techniques or practices described. The purchaser or reader of this Elvis Presley biography publication assumes responsibility for the use of these Elvis Presley biography materials and articles and information. Neither the Elvis Presley biography, author nor the Elvis Presley biography Publisher assumes any responsibility or liability whatsoever on the behalf of any purchaser or reader of these Elvis Presley biography, materials.
Description of Elvis Presley biography site contents: This site contains Elvis Presley biography information, Elvis Presley biography, Birthday Elvis history on Elvis Presley life story, Birthday Elvis Elvis Presley pictures and photos, Elvis Presley song lyrics, Birthday Elvis Elvis Presley movie resources, free e-books and articles listed for your convenient search in subjects of: Elvis Presley pictures and photos, Birthday Elvis Elvis Presley song lyrics, Elvis Presley movie resources, Birthday Elvis Elvis Presley childhood, Elvis Presley Band members biography, Birthday Elvis Elvis Presley girlfriends, Elvis Presley biography, Birthday Elvis Elvis Presley spiritual medium stories, Elvis Presley Memphis mafia stories, Birthday Elvis Presley biography, Elvis Presley diary quotes, Birthday Elvis Elvis Presley movie and music details in relation to the Elvis Presley autobiography and interviews of friends and family members for the Elvis Presley biography website written by a fan for his fans.
=================================================

Back to Top of page Elvis Presley biography