Elvis Presley Elvis Presly article page
of the Elvis Presley biography story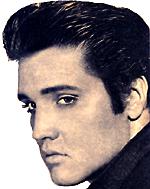 This Elvis Presly page is dedicated to providing quality Elvis Presley biography information, pictures and articles for your entertainment. The contents of this Elvis Presley biography site is written by a fan for his fans about Elvis Presly name misspelt.
Download the free autobiograpy book version of "Elvis Presley Forever" with his life story in full
SUMMER 1954
Sam Phillips calls Elvis into the studio to sing "Without You" but feels the boy doesn't do a very good job.


But Phillips is impressed enough to team Elvis with local musicians Scotty Moore (guitar) and Bill Black (bass) to see if they, together, could come up with something worthwhile.


In frustration, during a July 5 recording session, Elvis and the group perform a speeded up version of "That's All Right".


This song, and the flipside "Blue Moon of Kentucky," would be the first of five singles Elvis would release on the Sun label. Elvis, Scotty, and Bill start performing together, with Scotty acting as the group's manager.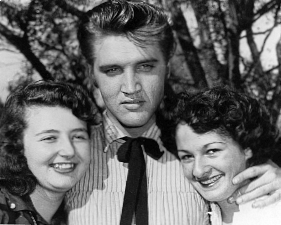 Elvis continues to work at Crown Electric as the group startsto play small clubs.

Elvis makes an appearance on the Grand OleOpry and is told by one of the officials that he should stick totruck driving.



LATE 1954 — 1955
Elvis, Scotty, and Bill continue to record and to travel. Theyappear for the first time on the "Louisiana Hayride", a liveSaturday night country music radio which is the Grand OleOpry's chief competitor.



This leads to regular appearances onthe "Hayride" and, in November, Elvis signs a one-year contractfor fifty-two Saturday night appearances. During this period,he meets "Colonel" Tom Parker, a promoter and manager connectedwith various acts.



Elvis signs a contract with Bob Neal,who becomes his manager.



1955
Elvis, Scotty, and Bill continue touring on their own and in packagedtours of artists from the "Hayride" with Colonel Parkerinvolved.Drummer D.J. Fontana joins Elvis's band. In the spring,Elvis fails to be accepted on "Arthur Godfrey's Talent Scouts", anetwork television show.

Nevertheless, Elvis gains in popularitimeline.ty and begins to receive national attention, leading Parker tobecome more directly involved in Elvis's career.



AUGUST 15, 1955
Elvis signs a management contract with Hank SnowAttractions, which is owned equally by Snow and ColonelParker — who will be Elvis's manager from this time on andHank Snow ceases to be involved.



NOVEMBER 20, 1955
Parker negotiates the sale of Elvis's Sun contract to RCA (includingElvis's five Sun singles and his unreleased Sun material) for$40,000, with a $5,000 bonus for Elvis.



RCA soon re-releases thefive Sun singles on the RCA label. At the same time Elvis signs acontract with Hill and Range Publishing Company, which createsElvis Presley Music, Inc.

As of late 1955, Elvis is without doubt the hottest new star inthe music business.



JANUARY 10, 1956
Elvis has his first recording session for RCA in their Nashvillestudio. Among the songs is "Heartbreak Hotel". During thesesessions, the Jordanaires join with Elvis soon begin touringwith him.



JANUARY 27, 1956
"Heartbreak Hotel" is released by RCA and sells over 100,000copies a week for the first three weeks, climbs to number oneon Billboard's pop singles chart for eight weeks, number one onthe country chart, and number five on the R&B; chart. Itbecomes Elvis's first gold record.



JANUARY 28, 1956
Elvis appears on Jackie Gleason's "Stage Show", starring Tommyand Jimmy Dorsey on CBS. This is Elvis's first network televisionappearance. He appears on six weekly "Stage Shows" in a rowwhile continuing the "Louisiana Hayride" appearances.



FEBRUARY, 1956
While "Heartbreak Hotel" is still climbing the charts, RCAreleases "Mystery Train" and "I Forgot to Remember to Forget"- the last recording on the Sun label. This release immediatelyhits number one on Billboard's country singles chart.

MARCH 13, 1956
RCA releases Elvis' first album which quickly turned gold.



APRIL 1, 1956
Elvis screen tests at Paramount Studios for a role in "TheRainmaker." He was not cast in the film.



APRIL 3, 1956
Elvis appears on "The Milton Berle Show".



APRIL 6, 1956
Hal B. Wallis and Paramount Pictures sign Elvis for a seven-yearcontract.



APRIL 23 — MAY 9, 1956
Elvis receives a tepid response from audiences at the FrontierHotel in Las Vegas during a two-week engagement. But hisnumerous public performances and record sales establish himas a sensation.



JUNE 5, 1956
Elvis appears again on "The Milton Berle Show" and performs"Hound Dog." His onstage movements are condemned by certainfactions of the conservative establishment.



JULY 1, 1956
Elvis appears on "The Steve Allen Show" on NBC and performs amore conservative version of "Hound Dog" — dressed in whitetie and black tux with tails. The popularity of Elvis forces EdSullivan to change his mind about refusing airtime for thesinger, and signs him to a three-appearance deal.



AUGUST 1956
Paramount loans Elvis to Twentieth Century Fox to play a featuredrole in a western called "The Reno Brothers." It is retitled "Love MeTender" after the song Elvis performs for the soundtrack's single.



SEPTEMBER 9, 1956
Elvis makes the first of his three appearances on Ed Sullivan's"Toast of the Town Show" and attracts the highest ratings everfor a variety show.



SEPTEMBER 26, 1956
"Elvis Presley Day" is proclaimed in Tupelo, Mississippi. Elvis'sparents join him as he returns to the town of his birth as a bigstar. He performs two shows that day at the Mississippi-Alabama Fair and Dairy Show- the same fair at which he hadperformed at age 10. Elvis souvenir merchandising begins tohit the store shelves. By the end of the year, this merchandisewill reach $22 million in sales.



OCTOBER 28, 1956
Elvis makes his second of three appearances on the Sullivan show.



NOVEMBER 16, 1956
"Love Me Tender" opens on this date and becomes a hit.



JANUARY 6, 1957
Elvis makes his third and final appearance on Ed Sullivan's"Toast of the Town Show." Although uncensored for his twoprevious performances, during this show Elvis is seen by theviewing audience only from the waist up.



JANUARY, 1957
Elvis begins production of his second movie, "Loving You".



MARCH 1957
Elvis buys Graceland Mansion for himself, his parents, and hispaternal grandmother to live in.



APRIL 2-3 , 1957
For the first time, Elvis performs outside the United States: inToronto and Ottawa.



MAY, 1957
Elvis is loaned to MGM to make his third film: "Jailhouse Rock."



JULY 9, 1957
Elvis's second motion picture, "Loving You" opens and reachesthe top ten at the box office. The soundtrack single featuringthe title song and "Teddy Bear" is released.

AUGUST 31, 1957
Elvis performs in Vancouver — the last time he would performin concert outside the United States.



SEPTEMBER 27, 1957
Elvis returns to Tupelo to perform at a benefit for the proposedElvis Presley Youth Recreation Center -he would donate regularlyto the center for the rest of his life.



OCTOBER 17, 1957
Elvis's third motion picture "Jailhouse Rock" premieres inMemphis and opens nationally the following month.



NOVEMBER 10, 11 1957
For the first time, Elvis visits and performs shows in Hawaii.



DECEMBER, 1957
Elvis receives his draft notice.

LATE JANUARY — EARLYMARCH, 1958
Elvis films and records the soundtrack album for his fourthmotion picture "King Creole".

MARCH 15, 1958
In Memphis, Elvis performs his last stage performances untilafter his army release in 1960. His tour of duty takes him out ofthe spotlight for nearly two years — and many music criticsconsider Elvis' induction to be the end of his career.



MARCH 24, 1958
Elvis Presley is inducted into the U.S. Army at the MemphisDraft Board.

MARCH 25, 1958
Elvis gets his G.I. haircut at Fort Chaffee, Arkansas.



MARCH 29, 1958
Private Presley arrives at Fort Hood, Texas for six month's basictraining. His parents move to a temporary home near the base.



JUNE 10, 1958
After basic training, Elvis has a recording session while on leave.



JULY, 1958
"King Creole", Elvis's fourth motion picture opens nationally. Itis regarded generally as his best serious film.



AUGUST, 1958
Gladys Presley becomes ill and is hospitalized with acutehepatitis. Elvis is granted emergency leave and arrives inMemphis on the afternoon of August 12th. She dies in the earlyhours of August 14 . She was only 46. She is laid to rest at ForestHill Cemetery, a few miles down the road from Graceland.



AUGUST 25, 1958
Elvis reports back to Fort Hood.



SEPTEMBER/OCTOBER 1958
Elvis sails aboard the USS Randall to West Germany, arriving onOctober 1. He will be stationed in Friedberg for 18 months,maintaining an off-base residence in Bad Nauheim.

JANUARY 8, 1959
For his 24th birthday, Elvis is interviewed on the telephone byDick Clark on his "American Bandstand" show on ABC-TV.



JUNE, 1959
On a two-week leave, Elvis visits Munich and Paris. Despitewhat the critics say, Elvis' career is kept alive by the careful promotionsand record releases of Colonel Parker.









What Elvis Presley biography information are you looking for?
Try a local search of our site for your answers








Back to Top of page

Terms of Use | Privacy Policy | Site Map | Elvis Presley Forever Links Directory | Contact Us | Subscribe to "Elvis Presley Forever!" newsletter | Download Site as a Book | HOME PAGE | Elvis Presley biography Blog | About Us

=================================================
SITE DISCLAIMER: The Elvis Presley biography information and resources on this Elvis Presley biography site are provided for your entertainment only. No content on this site is intended to be a substitute for therapy or professional advice. While all attempts have been made to verify information provided in this Elvis Presley biography publication, neither the author nor the publisher assumes any responsibility for errors, omissions or contrary interpretation of the Elvis Presley biography or Elvis Presley picture subject matter herein. There is no guarantee of validity of accuracy of any Elvis Presley biography content. Any perceived slight of specific people or organizations is unintentional. This Elvis Presley biography website and its creators are not responsible for the content of any sites linked to.

The Elvis Presley biography contents are solely the opinion of the author and should not be considered as a historical fact or authority on the facts. The author and the Publisher of Elvis Presley biography assume no responsibility or liability and specifically disclaim any warranty, express or implied for any products or services mentioned, or any techniques or practices described. The purchaser or reader of this Elvis Presley biography publication assumes responsibility for the use of these Elvis Presley biography materials and articles and information. Neither the Elvis Presley biography, author nor the Elvis Presley biography Publisher assumes any responsibility or liability whatsoever on the behalf of any purchaser or reader of these Elvis Presley biography, materials.

Description of Elvis Presley biography site contents: This site contains Elvis Presley biography information, Elvis Presley biography, Elvis Presly history on Elvis Presley life story, Elvis Presley pictures and photos, Elvis Presley song lyrics, Elvis Presley movie resources Elvis Presly, Elvis Presly free e-books and articles listed for your convenient search in subjects of: Elvis Presley pictures and photos Elvis Presly, Elvis Presley song lyrics, Elvis Presley movie resources Elvis Presly, Elvis Presley childhood, Elvis Presley Band members biography, Elvis Presley girlfriends, Elvis Presley biography, Elvis Presley spiritual medium stories, Elvis Presley Memphis mafia stories, Elvis Presley biography Elvis Presly, Elvis Presley diary quotes, Elvis Presley movie and music details in relation to the Elvis Presley autobiography and Elvis Presly interviews of friends and family members for the Elvis Presley biography website written by a fan for his fans.
=================================================


Back to Top of page Elvis Presley biography