Chapter 5.
Elvis Presley girlfriends & the true loves of his life
in Elvis Presley biography website
This page is dedicated to providing the site visitor with quality Elvis Presley biography girlfriends & lovers information, pictures and articles for your entertainment. The contents of this Elvis Presley biography girlfriends & lovers site is written by a fan for his fans.


On March 24, 1958, Elvis was sworn into the United States Army, and after his eight-week basic training at Fort Hood in Texas, he had two weeks at home enjoying recording new songs, relaxing at the fairgrounds and at the roller rink in the company of Anita wood, who at the time was his best girl.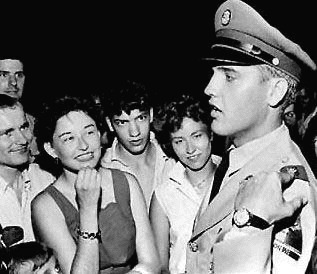 When the training at Fort Hood was finished, Elvis was sent to Germany and became a scout for the Army.
This was the time Elvis met Priscilla Beaulieu, Priscilla would later become his wife.
Elvis Presley`s sexual effect on woman around the world was simply supernatural.
Elvis was basically a one-woman man, his taste in a woman was to be classically feminine, with perfect features, and long tapered legs, as movement and grace were also important.
The Presley manner with women was natural, respectful, irresistible gentlemanly, always attentive`no cave man manner, Elvis was simply just being the sincere country boy.
Linda Thompson:
Linda came into Elvis Presley`s life at a time he needed, as he was hurting from his divorce with Priscilla.
Linda is of course a beautiful woman; her beauty may have brought her into Elvis`s life.
Linda being a real southern lady, her beauty wasn`t only skin deep she is a southern lady with a beautiful soul and spirit, humor and compassion.
It has been said Linda was by far the closest to Elvis besides Priscilla.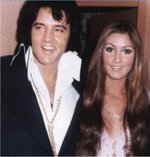 Linda being a southern girl, with high morals, but easy going and a big heart, Elvis highly respected Linda.
Elvis showered her with credit cards, cars, clothes, a home, and anything else she wanted.
But it wasn`t all about just the benefits, with her being in a relationship with Elvis Presley, she developed a very deep love for the man.
Linda stayed with Elvis longer than his own wife.
Being Elvis`s girl friend was heavy stuff, you do what he does and that`s it.
Linda did it because she cared deeply for him, and for five years-traveled with him, took care of him, she had the power to cheer him up when he was down she would share in his interests with religion and other subjects, and then transform from a buddy into a sexy, mature woman to became his lover.
Linda loved Lisa Marie`s visits, they got along wonderful the feeling was quite mutual on Lisa`s part; Linda and Priscilla became really good friends.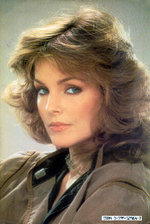 Elvis offered to buy Linda`s parents a home, which he did, Linda`s brother Sam would become part of the group working for Elvis as his personal bodyguard.

Linda would benefit greatly being Elvis Presley`s girl friend, but was she happy?

Emotionally the bottom line of their relationship was leaving their relationship between a commitment and a more `open` relationship, which Elvis felt more than comfortable with.
Elvis was going to get Linda her own home so then Elvis could have other woman to his house in Memphis, Elvis did love Linda in his own way.
At times Linda went along on dates as Elvis`s friend while he was with other women, but it was only a matter of time before Linda too began to stray.
` Linda truly loved Elvis`, its believed that Linda would have loved him even if he hadn`t been `Elvis Presley,` King of Rock and Roll.
The reasons for their split up are thought to because Linda felt they would never get married, so she gave up hope after all those years that would lead nowhere.
Linda had been with Elvis for five years and cared deeply for him, but being in her mid Twenties needed to be in touch with the rest of the world, she had to get out and no longer be locked in by Elvis.
They both just kind of bowed out of the relationship gracefully, and gradually, they would remain the best of friends.
With Linda no longer by his side, Elvis seemed more than ever before so alone.
Another very special lady taken for granted, just like his ex-wife, Priscilla.
With Linda no longer in his life, Elvis seemed to rapidly age, his health problems and the drugs where becoming a real concern.
But there were still the woman to occupy his time, with brief flings, affairs, flirtations and encounters, he was seen with Cybill Shepherd and a model Sheila Ryan, then there was Ann Pennington and Mindy Miller also performed a brief fandango with Elvis, and flitted away, like many others also did.
`Elvis became so very lonely,` and tried to full fill his loneliness with female companionship.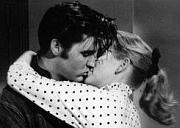 When Elvis met Ginger Alden, the rumors began to circle that Elvis was once again in love`that he had found the real thing, with his nineteen-year-old beauty, Ginger Alden.
Ginger was very pretty, with long dark hair, brown eyes, with a voluptuous figure.
But Elvis was attracted to Ginger more so to do with her youth, with hope to restore Elvis`s youthful vigor, beauty and innocence, and at forty was slipping away from him day by day, and that the idea that Ginger would keep him forever young,
Ginger was young and innocent, who didn`t have a bad name and the fact that Ginger hadn`t been about much, also attracted Elvis to begin a relationship with her, he would feel more secure knowing she hadn`t known many other men and she would be more adaptable to his life style.
From the beginning of his career, Elvis was a sex symbol who sent legions of women swooning.
He had a string of girlfriends, before and after he became famous, including celebrities such as Mamie Van Doren, Natalie Wood, Tuesday Weld, Cybill Shepherd, Barbra Streisand, and Ann-Margret.
(Click here for more on Ann Margret biography )
In 1954 Elvis`s High School sweetheart was a raven haired girl named Dixie Lock, but she ended it with Elvis after he took to the road with DJ Scotty and Bill.
1955 June 26 Elvis was dating June Juanico who was the only girl his mother ever approved of.
Elvis spotted the pretty starry-eyed 17 year old at one of his shows during intermission.
She shared a three year passionate relationship with Elvis at the beginning of his career.
But Elvis and June could only keep in close contact by phone for the last 5 months of their relationship while he was on tour.
Elvis`s next steady girlfriend was Anita Wood. A pretty blonde several years older than Elvis, was to be `the girl Elvis left behind` when he was drafted and sent overseas.
Anita describes her first date.... "I remember the lounge room was full of teddy bears.... All of a sudden Elvis said, `I want to show you my bedroom` and so we went upstairs and he started to kiss me.
Now, this was the first date and his hands started to move were I thought they shouldn`t so I said, `I think I need to go home now.`
He acted real nice, we went down stairs and he took me home. And the second date? The second date was a couple of nights later and we went up to Graceland again.
...You know Elvis still had an old truck and we`d get in it and he would drive me down to Lauderdale Courts to show me where he used to live.
He`d show me around Memphis and nobody would ever bother us because they really didn`t recognise him in that truck. We just went back to his house, we watched television, ate and had a good time, then Elvis took me home.
Elvis and I saw each other a lot and after about two months we were on a date and after he took me home we stood on the porch and he said, `Little, I think I`m falling in love with you.` He was loving, kind and he made me laugh." — Anita Wood
Anita was an Elvis Presley girlfriend for six years.
"Anita had a crazy sense of humour just like Elvis. She was just a wonderful lady and we all loved her very much.
We were all disappointed when it didn`t work out` — Sonny West.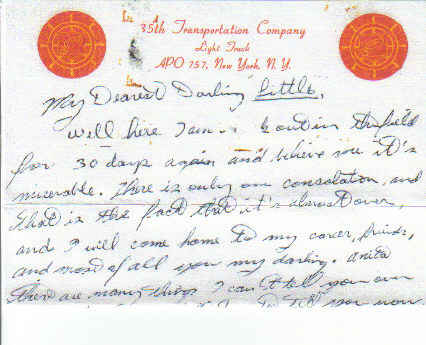 Above: extract from his letter to Anita, who he called "Little"
An Elvis Presley girlfriend Yvonne Lime was also Elvis`s co-star in Loving You, and also stayed as a guest at Graceland. The gossip columns started marriage rumors.
Margit Buergin a beautiful seventeen year old girlfriend that Elvis went sightseeing with while in Germany. Elvis also dated Vera Tchechowa, a young film actress in Berlin.
Priscilla Beaulieu was not quite 15 years old when she was introduced to Elvis. He couldn`t take his eyes off her and found her entrancingly beautiful.
They saw each other for four or five months in Germany before Elvis was discharged from the Army.
Incredibly, in early 1961 Elvis managed to talk Priscilla's mother and step-father into allowing the underaged girl to live with him at Graceland — it was said, under the supervision of Vernon and Davada. Elvis would call her `Cilla.`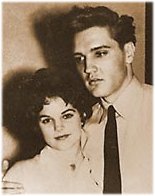 The press went along with the spin Colonel Parker put on the story, and few seemed to care the King of Rock and Roll was sharing his house with a teenaged girlfriend.

Find out more about Priscilla`s life with Elvis Elvis and Me


1964 Elvis and Ann-Margaret were romantically linked on and off the set when they made ``Viva Las Vegas'' together. They instinctively knew each other's moves.

They would slither around his living room like cats, with Elvis growling, ``You got me running,'' and Ann-Margret responding, ``You got me hidin.' ''

At the time Priscilla was living at Graceland, but could do no more than follow the courtship in the newspapers.

Ann-Margret also has described a Vegas encounter with Presley -- but in her case, she says, he was the one filled with longing. He phoned her after she opened a show in 1972 to say he was lonely and to ask if he could spend the night.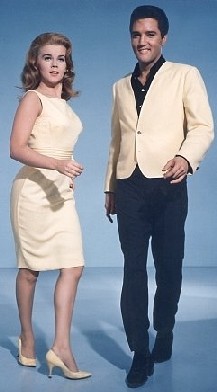 Married by then to Roger Smith, Ann-Margret says she told him, ``You know I can't.''

While it's generally thought that they had a hot and heavy romance during the filming, which gives ``Viva Las Vegas'' its oomph, Ann-Margret is coy about whether they ever were intimate.

She acknowledges that he had a round pink bed made for her because he knew she loved pink, but won't say if they spent any time in it.

``What we had was very strong and real intense. I knew him very, very well. We were so much alike,'' she told The Chronicle three years ago when her autobiography, ``Ann-Margret: My Story,'' came out with a chapter devoted to Elvis.

Elvis and Ann-Margaret remained friends for a life time.

= THEN =

On May 1 1967 Priscilla became Elvis Presley`s wife!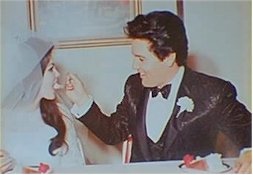 1968 February 1, exactly nine months from their marriage, Priscilla and Elvis are the proud parents of a six pound, fifteen ounce, baby girl.
Her name is Lisa Marie Presley.
On January 8 1973, on Elvis`s thirty eighth birthday, Elvis filed for divorce. The divorce was granted on October 11. Elvis and Priscilla emerged arm-in-arm from the courthouse in Santa Monica, with amicable smiles for the cameras.
Priscilla was twenty eight years old, with custody of Lisa Marie, who was five years old.
In 1972 Linda Thompson became Miss Tennesse in the Annual Miss Universe pageant and then met Elvis Presley.
Linda was an Elvis Presley girlfriend, traveling companion and lover for almost five years.
Linda was very much loved and respected by all around her as she was really good for Elvis.
Linda could of had all she wanted and pulled out long ago, but Linda stood by her man because she cared. Linda traveled with him and took care of him. She would have done anything for Elvis.
Its thought that the reason her their split up was Linda saw that they would never get married, she gave up hope.
Linda and Elvis phased each other out of their lives ` `they both just kind of bowed out gracefully` and they remained the best of friends.
After Linda`s departure Elvis seemed to age more rapidly with an upswing in health problems and drugs.

Ginger Alden a very pretty nineteen year old, with long dark hair, smoldering brown eyes, and a voluptuous figure.

Elvis and Ginger met the same year as she was Miss Memphis Traffic Safety of 1976.

Rumors began that Elvis was once again in love and that he had found `the real thing.`

Elvis`s feelings for Ginger came as a surprise to everyone in the TCB group, but there was no doubt about the fact that the age difference.

Her youth and his age made Elvis uneasy. After Elvis died, Ginger proved she was going for a buck.

When the chips fell that August morning at his home `Graceland`, Ginger would remain in bed, asleep, while Elvis had his moment of truth.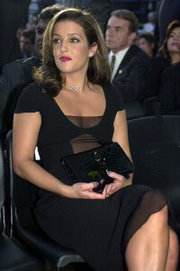 Elvis: `When you`re not in love, you are not alive.`
Priscilla Beaulieu Presley: "He was my father, husband and very nearly God..."
Lisa Marie Presley: "I love my daddy — not because he was Elvis Presley."
Lisa Marie Presley Interview With Andrew Denton, ABC
Without a doubt, the final and true love of Elvis's life, apart from his beloved Mother, was his precious daughter — Lisa Marie
So many women, famous and not, have been linked to Presley that you wonder how he found time to have a career.
Cybill Shepherd has confirmed in interviews that she dated him in 1972, when his marriage to Priscilla was in its final stage.
A friend who knew Shepherd from Memphis called and said the singer wanted to meet her and invited her to a private screening.
When the movie started, everyone on one side of her slid down a seat and Presley, dressed all in white, plopped down next to her.
"He was gorgeous then, and I didn't look bad either," she has recalled.
Other celebrities linked with Presley include Natalie Wood, Connie Stevens, Monique Van Vooren and Nancy Sinatra, who was rumored to be seeing him during his wife's pregnancy.
Bookstores practically have a subsection under Presley for memoirs by women who claim to have had affairs with him.
Cassandra Peterson says she knew him for only one night -- and all they did was talk.
As her campy persona, Elvira, she has introduced horror movies on TV and starred in a feature film, "Elvira, Mistress of the Dark."
But in 1969, when she says the rendezvous with Presley took place, Peterson was one of those Vegas showgirls he seemed to favor.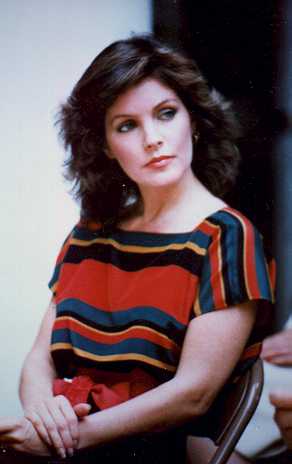 A tribute to the Presley courtship and marriage.
The Only Woman Elvis Ever Loved Priscilla Her Story with hundreds of photos.
October 9, 1973
Elvis and Priscilla Presley divorce in Santa Monica, California.
(Memphis Mafia member) Joe Esposito's reply to the question — DID PRISCILLA HAVE A ROUGH TIME BEING MARRIED TO ELVIS?
"Yes. It was not as easy job being married to Elvis. Elvis was not a one-woman person — he loved all women and could never be loyal to just one. It must of been rough being Elvis' wife... And it must be ever tougher being his widow. I believe had Elvis lived, Priscilla and he would have got back together. Elvis always said she was the only woman he truly loved. And the one woman that understood him."
Next Page:
Chapter 6 ` Elvis Presley Memphis Mafia history and interviews.
Download book version of this site `Elvis Presley Forever` with his life story in full


Download the free autobiography book version of `Elvis Presley Forever` with his life story in full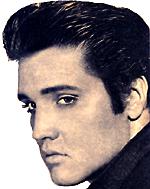 This autobiography page is dedicated to providing quality Elvis Presley biography information, pictures and articles for your entertainment. The contents of this Elvis Presley biography site is written by a fan for his fans.

Do you have a contribution to make to this site?
Back to Top of page

Terms of Use | Privacy Policy | Site Map | Elvis Presley Forever Links Directory | Contact Us | Subscribe to `Elvis Presley Forever!` newsletter | Download Site as a Book | HOME PAGE | Elvis Presley biography Blog | About Us
=================================================
SITE DISCLAIMER: The Elvis Presley biography information and resources on this site are provided for your entertainment only. No content on this Elvis Presley biography site is intended to be a substitute for therapy or professional advice. While all attempts have been made to verify information provided in this Elvis Presley biography publication, neither the author nor the publisher assumes any responsibility for errors, omissions or contrary interpretation of the Elvis Presley biography or Elvis Presley picture subject matter herein. There is no guarantee of validity of accuracy of any Elvis Presley biography content. Any perceived slight of specific people or organizations is unintentional. This Elvis Presley biography website and its creators are not responsible for the content of any sites linked to.
The Elvis Presley biography contents are solely the opinion of the author and should not be considered as a historical fact or authority on the facts. The Elvis Presley biography author and the Elvis Presley biography Publisher of Elvis Presley biography assume no responsibility or liability and specifically disclaim any warranty, express or implied for any products or services mentioned, or any techniques or practices described. The purchaser or reader of this Elvis Presley biography publication assumes responsibility for the use of these Elvis Presley biography materials and articles and information. Neither the Elvis Presley biography author nor the Elvis Presley biography Publisher assumes any responsibility or liability whatsoever on the behalf of any purchaser or reader of these materials.
Description of Elvis Presley biography site contents: This site contains Elvis Presley biography information, history on Elvis Presley life story, Elvis Presley biography, Elvis Presley pictures and photos, Elvis Presley biography, Elvis Presley song lyrics, Elvis Presley biography, Elvis Presley movie resources, Elvis Presley biography, free e-books and articles listed for your convenient search in subjects of: Elvis Presley biography, Elvis Presley pictures and photos, Elvis Presley biography, Elvis Presley song lyrics, Elvis Presley biography, Elvis Presley movie resources, Elvis Presley biography, Elvis Presley childhood, Elvis Presley biography, Elvis Presley Band members biography, Elvis Presley biography, Elvis Presley girlfriends, Elvis Presley biography, Elvis Presley spiritual medium stories, Elvis Presley biography, Elvis Presley Memphis mafia stories, Elvis Presley biography, Elvis Presley diary quotes, Elvis Presley biography, Elvis Presley movie and music details in relation to the Elvis Presley autobiography and interviews of friends and family members for the Elvis Presley biography website written by a fan for his fans.
=================================================

Back to Top of page Elvis Presley biography