Elvis Presley MUSIC FROM THE HEART article page
of the Elvis Presley biography story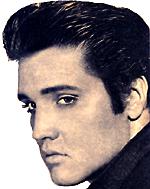 This Elvis Presley biography site MUSIC FROM THE HEART page is dedicated to providing quality Elvis Presley biography information, pictures and articles for your entertainment. The contents of this Elvis Presley site is written by a fan for his fans about MUSIC FROM THE HEART.
When Elvis began putting together his collection of music for his comeback, he was able to reflect on many years of a great range of popular American music, including his own and that of other's.
Elvis was blessed with a natural talent to sing just about anything, but he also needed to feel as comfortable with his selected material, as he was around the guys that worked for him.
Article also continues below for more information about Elvis Presley's Star sign And Fame
Read here find out more about his remarkable voice with comments from his fans in their survey replies to me and more Elvis Presley √ Voice Characteristics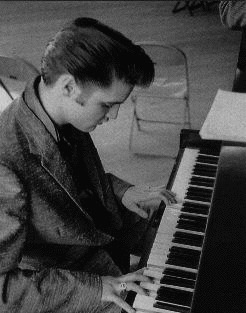 Elvis was well aware he had an audience to please, but if he was in the mood and wanted to do something different, he would also please himself, as long as he did it his way.

In his selection of music were the Elvis Golden Oldies, which were always great crowd-pleasing favorites they included≈"That's All Right (Mama)," "Cant Help Falling In Love," "Love Me Tender," "Heartbreak Hotel," "All Shock Up," "Hound Dog," "Trying to Get to You," "Jailhouse Rock"≈many of these songs are now used in a shortened form and put in suitable medleys.

The new range of material that found its way into his performance says a great deal about his existence and image.

Elvis required a personal "hold" in everything that he did; which might come from the style of the music, but most of the time it was more likely to come from something in the lyric, which would allow him to express himself.

Elvis knew that the only thing that would help the music stay fresh, alive, and take a hold on the audience was to add his personal touch with a meaningful opening.

Elvis wasn't one to sing a song unless he felt it; he had to feel it in his heart, for that's where he sang from and that's what made him a famous star.

No matter what he sang it had to fit him perfectly, and it is obvious when going through songs he sang over the years, and hearing the personal connections that were evident in his life.

The guys in the group were often on the lookout for new material to try out on the boss, like Simon and Garfunkel's moving classic, "Bridge Over Trouble Water," a song Elvis found instantly challenging and emotionally powerful.

When Elvis performed "Bridge Over Trouble Water," his trembling body quivers, his head rolls on his shoulders, while clinching his fists letting the sweat pour down his face, and when he gets to "I've Lost You" he is down on his knees as if death is the only option: as the tears streak the mascara.

Creedence Clearwater Revival's traditional, "Proud Mary," allowed the kind of vocal expression Elvis loved, as did Tony Joe White's "Polk Salad Annie" also having the same excited reaction.

Then there were the songs he sang for special reasons.A Marty Robbins's hit, "You Gave Me A Mountain" expressed his need to persist, remain strong, continue with strength after his divorce, and the sadness of being without his daughter.

"American Trilogy," one Elvis put together, as a tribute to the dignity of his country and its tradition. Only Elvis could have pulled it off with such perfection.

In the end Elvis's variety of musical material, remained a very profitable mixture of his past and present; his music was the glue that held together all those dissimilar basics in his life.

In private Elvis enjoyed the theatrical numbers with vocal back up, he was attracted to the many voices hitting at one time, from the lowest bass to the highest peak tenors and sopranos reaching the same note. Elvis loved the force behind it.

Mostly, Elvis took pleasure in listening to gospel. Elvis strongly believed, there was nothing as influential or inspirational than the good gospel music, he would carry around a case of a hundred or so albums≈most of them were gospel music.

Listening to his chosen gospel music was a means for Elvis to get in touch with his roots; he often used this music for giving praise to the Lord when feeling humble and thankful, which he regularly did. The Bible says to sing praise and lift your voice to Him.

When Elvis sang "How Great Thou Art" he felt it in his soul, with such feeling and meaning he had the power in him to move mountains. Elvis quite often liked to listen to Mahalia Jackson, who was to Elvis, the Queen of Gospel.







What Elvis Presley biography information are you looking for?
Try a local search of our site for your answers








Back to Top of page

Terms of Use | Privacy Policy | Site Map | Elvis Presley Forever Links Directory | Contact Us | Subscribe to "Elvis Presley Forever!" newsletter | Download Site as a Book | HOME PAGE | Elvis Presley biography Blog | About Us

=================================================
SITE DISCLAIMER: The Elvis Presley biography information and resources on this Elvis Presley biography site are provided for your entertainment only. No content on this site is intended to be a substitute for therapy or professional advice. While all attempts have been made to verify information provided in this Elvis Presley biography publication, neither the author nor the publisher assumes any responsibility for errors, omissions or contrary interpretation of the Elvis Presley biography or Elvis Presley picture subject matter herein. There is no guarantee of validity of accuracy of any Elvis Presley biography content. Any perceived slight of specific people or organizations is unintentional. This Elvis Presley biography website and its creators are not responsible for the content of any sites linked to.

The Elvis Presley biography contents are solely the opinion of the author and should not be considered as a historical fact or authority on the facts. The author and the Publisher of Elvis Presley biography assume no responsibility or liability and specifically disclaim any warranty, express or implied for any products or services mentioned, or any techniques or practices described. The purchaser or reader of this Elvis Presley biography publication assumes responsibility for the use of these Elvis Presley biography materials and articles and information. Neither the Elvis Presley biography, author nor the Elvis Presley biography Publisher assumes any responsibility or liability whatsoever on the behalf of any purchaser or reader of these Elvis Presley biography, materials.

Description of Elvis Presley biography site contents: This site contains Elvis Presley biography information, Elvis Presley biography, history on Elvis Presley life story, Elvis Presley pictures and photos, Elvis Presley song lyrics, Elvis Presley movie resources, free e-books and articles listed for your convenient search in subjects of: Elvis Presley pictures and photos, Elvis Presley song lyrics, Elvis Presley movie resources, Elvis Presley childhood, Elvis Presley Band members biography, Elvis Presley girlfriends, Elvis Presley biography, Elvis Presley spiritual medium stories, Elvis Presley Memphis mafia stories, Elvis Presley biography, Elvis Presley diary quotes, Elvis Presley movie and music details in relation to the Elvis Presley autobiography and interviews of friends and family members for the Elvis Presley biography website written by a fan for his fans.
=================================================


Back to Top of page Elvis Presley biography